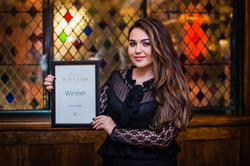 We would like to share some exciting news with you. ILSPA graduate Georgie Theobald won the Legal PA of the Year Award with Secsinthecity last month.  
The PA of the Year awards were founded by Secsinthecity to provide recognition for the hard work and professionalism performed by PAs. The awards have been running for 5 years and each year the organisation receives nominations for dedicated PAs throughout the country. This year, Secsinthecity received over 400 entries with categories such as Legal PA of the Year, Social Media PA of the Year, PA of the Year as well as an Outstanding Achievement category.
Georgie gained ILSPA's Legal Secretaries Diploma in 2015 and has found the course to be of great benefit to her in her career. We spoke to Georgie Theobald about her achievement and it was wonderful to hear what she had to say about her award and her studies with ILSPA.
Why were you nominated for the Legal PA of the Year award?