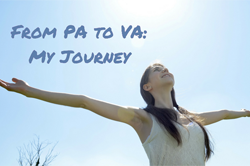 Having originally worked as a PA and Office Manager, I've been a freelance Virtual Assistant (VA) for just over three years now and I absolutely love it. Whether you are a PA in the legal sector or elsewhere, there are huge opportunities if you're thinking of going freelance.
I've met tons of PAs, Secretaries and others recently who are thinking of going "virtual", or are just interested in how the transition from PA to Virtual Assistant works – so here's my story!
I'd been a Bookkeeper and Office Manager for a number of years before becoming a PA in the accountancy sector in 2001. Seven years later, due to a merger, both myself and my boss were made redundant. When he asked me if I wanted to join his new business venture, I didn't hesitate. Although he made me a junior partner, in practice I was essentially still in a PA role.
Fast forward to 2012, and as things hadn't worked out between us, I decided to leave. January 2013 was a new year with new prospects on the horizon. I decided I'd spent too much time working and commuting and wanted to see more of my daughter before she grew up. I wanted a part-time job with the good rates of pay I was used to as a PA, and ideally with not too far to travel!
I was in for a bit of a surprise, though. The last time I'd had to apply for a job was 2001, and things had changed – a lot. We were post-recession and there weren't nearly so many jobs about. Well-paid part-time positions were few and far between and had hundreds of applicants. Then there was the application process – sending my CV and application forms off to agencies or prospective employers, I wasn't even sure if they ever arrived anywhere. Sometimes I suspected they were just floating around cyberspace, never to be seen by human eyes.
Then there was LinkedIn. My sister told me I should update my profile. I did have a profile but I was still just an "egg", never having gotten around to uploading a photo, and to be honest not really sure what it all meant. What did people use it for? Why was it important for finding a job? I just didn't get it.
After a few months of barely getting an interview, I'd had enough. A friend of mine had suggested we look into setting up a letting agency as she owned several houses she rented out. I got a job at a letting agency to see what it was like. But a week of working until 7 or 8pm most nights, plus Saturdays, and I decided this wasn't the business for me.
Back to square one!
I started to think about what I was good at. Perhaps I could be a freelance PA? I looked into it and realised there was a whole industry out there I'd never heard of: the Virtual Assistant industry!
With just a laptop, mobile phone and broadband, I set myself up and proceeded to educate myself about all things virtual. I won't lie – the following year was quite tough! I taught myself how to use a whole host of cloud-based software, how to use social media for my business (even including Twitter!) and of course, crucially, how to find clients and close a sale. It was at times a painful process, and there were days when I thought of giving the whole thing up.
I surprised myself by finding my very first client from amongst my existing contacts. Interestingly, I ran a survey recently which showed that friends, family and existing contacts is where the majority of new VAs find their first client. This is great news for anyone wanting to become a freelance VA because your first client is potentially just sitting there waiting for you!
The hardest thing for me was face-to-face networking. This eventually became my main source of new clients, but at first the thought of entering a room full of strangers with a view to marketing myself and my business was TERRIFYING! Although I'd been involved in a business before, I had never had anything to do with the sales or marketing side of things.
Just 18 months after setting up, I was surprised and delighted to win the Best Newcomer VA award at the Be My VA Conference & Awards. I now network like a pro and have a solid base of clients providing me with a recurring income, plus new referrals coming in regularly.
Although there were times when my confidence was at rock bottom, I'm so glad I stuck at it as it's given me the lifestyle I've always wanted – flexible hours, a good income and the luxury of being my own boss. I now train PAs, EAs and Administrators to set up their own freelance VA businesses so that I can help them to achieve the same.
There are so many opportunities for PAs and Secretaries to become VAs. More and more entrepreneurs are working from home and need day-to-day support. Even large businesses are beginning to outsource to VAs these days as they recognise the benefits when compared to being an employer. If you want to work specifically in the legal sector, there are plenty of Lawyers working as sole practitioners who need help, and there are even Barristers who use VAs.
If you're thinking of becoming a VA, why not join one of my FREE online training sessions? To find out more and register, click here.
by Tanya Kuhrt
Training PAs to be VAs