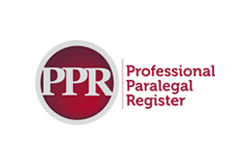 The Professional Paralegal
               Register Conference
                            on 
                      21 April 2016
                             at 
      Wybston Lakes Executive Centre
          Great North Road, Wybston
                        MK44 3AL
 
The Professional Paralegal Register (PPR) is delighted to invite ILSPA members to attend the first-ever Paralegal Conference to have been organised in England and Wales. A special rate of £40 per ticket is available for ILSPA members.
Legal Secretaries who perform any kind of legal work are, by definition, Paralegals. The PPR recognises that many Legal Secretaries undertake substantial legal work and could benefit from further professional recognition as a PPR member.
The conference has an expert panel of speakers, chaired by Derek Wood, CBE, QC, as follows: Steve Green (Chair of the Office of Legal Complaints); Elisabeth Davies (Chair of Legal Services Consumer Panel); Espe Fuentes (Head of Legal Operations, Which? Legal); Becky Huxley-Binns (Vice Provost at the University of Law); Lindsy McGowan (Specialist Paralegal Recruiter); and Chris White (Founder of Aspiring Solicitors).
The conference will also offer eight workshops, an exhibition and the chance to network.
Rita Leat (Managing Director of the PPR) commented:
"As with all Paralegals, Legal Secretaries are vital to the success of legal service provision in the UK and deserve recognition for their dedication and efforts to provide such a professional service. I would encourage ILSPA members to come and see for themselves what the PPR could do for them and their businesses".
To book tickets, please go to the website at www.ppr.org.uk/conference; under the non-members section, the discounted rate is available by entering the following code: ILSPA40.