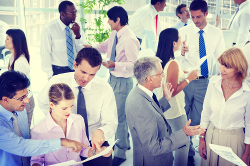 Off the top of your head, what's the best thing about the internet? Is it that you're able to see as well as talk to friends and family members on the other side of the world? Is it that you can listen at any time of the day or night to practically any music track you can think of? Or is it simply that you're never more than a minute away from a really cute cat video? 
All of these things are great. But I think that the best thing about the internet is the ability to connect with people you might otherwise never have come across, and to pool your knowledge and resources together: in other words, to network. 
It's never been easier to make connections with people who have the same interests and the same agenda as you. You probably already do this through Facebook and Twitter, supporting charities and joining clubs. Why not take it one step further and organise a professional network for Legal Secretaries and PAs in your city, town or county? 
Legal Secretaries and PAs are already great at organising networking events for their bosses, but they need to take it a step further and organise networking events for themselves. The benefits are just the same for Secretaries as they are for fee earners, and the activity is just as important.
What do Lawyers use networking for? They use it to advance their professional interests, because the professional is also the social. Take a leaf from their book. They meet up to find out who's studying on a new course, who's moved jobs to another firm, what's happening in the legal business in their geographical area; to hear talks from guest speakers; and to get advice and support from colleagues who are more experienced than they are. Networking is an important part of their professional lives. 
All of these activities are just as important to Legal Secretaries and PAs. We're inclined to take a back seat and put the interests of our fee earners first, which is understandable, but it doesn't mean that we should ignore networking altogether. It just takes one Legal Secretary to start the ball rolling in your area: why not make it you?
How to start? I think the best way is to circulate a very basic proposal via email. Get out your contact list and send round something that sets out the basic idea of a get-together. A lunch meeting is always a good starting point, because many of your colleagues will not be able to devote time in the evenings due to family commitments. Start small: an initial meeting of 10 to 12 people would be a brilliant start, ideally distributed over as many firms. See if your firm would be willing to allow you to use one of their meeting rooms as the venue, or meet up at a centrally located venue in town.
At your first meeting, have a discussion about what the attendees would like to get out of the network. It may just be an internet group: consider Facebook or LinkedIn. Most people will want to combine a virtual group with occasional meetings, so find out how often and where they would like to meet. Will the meetings be purely social? Nothing wrong with that. It's possible to learn as much in an informal chat as it is in a more structured environment, particularly if the group's main aim is mutual career support. 
Or will there be speakers at some of your meetings? This is often easier to arrange than you might think. You will often find that many potential speakers with interesting things to tell you about technology, business or career development will be happy to come along and speak for free in exchange for the ability to plug their services. It's worth finding out at your initial meeting what topics your colleagues would like to know more about so that you can follow this up.
After the initial meeting and the setting up of an internet-based group, encourage the attendees to circulate the details of the group to their own contacts. With a bit of luck, you will find that new members begin to sign up of their own accord or (if you operate a closed internet group, which is sometimes advisable) begin emailing you to ask how to join. 
Professional networks are a really simple and effective way of enriching your life at work, made even simpler by today's technology. Why not make a start on one today?