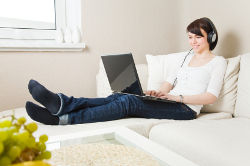 An Audio Typist is a professional who specialises in transcribing documents from an audio source which they listen to. Audio typing is a valued ability to gain for those wishing to improve their professional skills as a Legal Secretary. There are a number of jobs which list audio typing as a stipulation, and although it not a skill that is always required, it will enable you to welcome better job prospects. 
The key skills that a competent Audio Typist requires are the ability to type fast and accurately, the ability to touch type without referring to the keyboard, an excellent command of spelling and grammar, and a high level of concentration. An Audio Typist must also be flexible in regard to learning how to use his or her employer's specific audio transcription system, as each firm and legal department varies. With practice, audio typing is an easily achievable and worthwhile skill to obtain.
Legal Secretaries with audio typing skills will often be asked to demonstrate the speed at which they can type, so it is vital for prospective Legal Secretaries to refine their touch typing skills. There are online typing skills courses available which are tailored to help typists of all levels from beginner to advanced. We highly recommend that you enrol on a typing skills course to improve your typing proficiency, as it will strengthen the essential skills you need to undertake an audio typing course. 
Although ILSPA does not provide an audio typing course, there are two courses we would recommend inquiring about:
Pitman Training, Audio Transcription
http://www.pitman-training.com/courses/audio-transcription-level-1
A 15-hour course split into five flexible lessons held in convenient training centres around the UK with one-on-one help from course advisors. This course enables the student to gradually become competent with audio transcription equipment, resulting in the confident production of business documentation.
Souters, Audio Typing Course
http://www.souterstraining.com/audio-typing-course
Held in an accredited training centre in London with access to live tutors, this course gives the student the option of completing in a month or flexible timings to suit individual needs. Digital recordings, headsets and foot pedals are provided to control the speed of the dictation.
Students who wish to gain the skills from home can do so by downloading specialist transcribing software, designed to act as a digital Dictaphone. Express Scribe is free professional audio player software which a typist can install on a home computer to assist in the transcription of audio recordings. The typist will need to buy good-quality headphones and a foot pedal to control audio playback. Olympus also makes a range of professional transcription kits which feature a typing console to which audio files can be transferred as well as both headphones and foot pedals. The Olympus AS-2400 and AS-5000 are both recommended by users.
There are also invaluably useful online resources which can be used to further hone your skills from the comfort of your own home. Practising with the podcasts and audio recordings available below will give you the opportunity to become familiar with typing from an audio source:
courtreportingredlion.podomatic.com
For more information, contact us on 0207 1009210 or email us at info@institutelegalsecretaries.com.