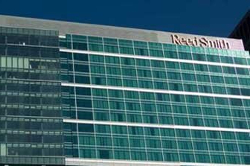 Vicki Lister is the Secretarial, Catering and Reception Services Manager for Reed Smith, a global law firm based in London.
Vicki has worked her way up to her current management position after initially starting her career as a nanny. She then made the change to law and took on a secretarial role at a Magic Circle firm and has since progressed through promotion to her current role.
Vicki joins us to share her experience and what a typical day is like for her…
How I start my day… I start my day at 6.30 a.m. and get into the office around 8.45. I check my emails on my train journey to ensure any urgent absences can be dealt with early and so that when I get into the office I can get straight on with other work or urgent emails or attend any meetings. I have breakfast and a strong coffee at my desk, much needed!
I'm responsible for… around 100 secretaries and approximately 30 Reception, Catering and Hospitality staff who manage the service contractually for Reed Smith.
How I got my job… I started my legal career later in life having been a nanny and au pair and held various secretarial roles in other industries before joining Linklaters. I started at Linklaters as a float secretary and then secured a permanent role in the Financial Securities division. I moved on to become a deputy team leader and then a team leader of a larger department, and I also spent a period of time in their Amsterdam office helping reconfigure the secretarial team there. On my return I felt a new challenge was in order and applied for the Secretarial Manager role at Reed Smith. I've now been here seven years and in the last year have taken on the contractual management side too, which has been another interesting string to my bow.
My typical day… I have no real typical day! That's the variety of it that I enjoy. I manage my emails via my iPhone on the go where necessary and can often be in back-to-back meetings relating to staff well-being, performance management, recruitment and resources. The days I have at my desk without any meetings or ad hoc requests to pop and see someone are rare!
My most memorable work moment… My most memorable work moment possibly has to be judging the Legal PA Awards alongside other management colleagues – I now have some very good friends made through the networking side of the industry!
The worst part of my job… The worst part of my job can often be the challenge of managing the partnership relationships across the firm in conjunction with managing budgets and resources. I have to be empathetic, respectful and tenacious to get the job done, and no two issues are ever the same, so every day can still be a learning curve as to how I may approach an issue.
The best part of my job… The best part of my job is simply getting it right – solving a resourcing problem to the benefit of the partner, secretary and budgets/the firm!
After work… My evenings are also varied. I teach Pilates in my spare time and am currently trying to get my new house decorated, or I'm out and about socialising.
My plan B: My plan B would be to start my own 'Pilates V' business!
Article courtesy of Michelle Robinson from Career Legal. Career Legal is a leading recruitment consultancy specialising in placing London's top legal support talent into the world's leading firms. The secretarial team is regarded as a market leader, established for over 25 years with highly experienced consultants working with a range of top law firms often on an exclusive basis. Our reputation has been built on the wealth of experience of our team and our ability to deliver the best service to our candidates. We offer a full service to our candidates, which includes CV tips, interview advice, market updates and insights, and of course finding our candidates their dream jobs!
 
Our consultants can offer a multitude of opportunities across temporary, contract and permanent roles throughout a number of locations in London, and we are also expanding our recruitment services across the rest of the UK. Every candidate we work with is offered full support with the recruitment process to ensure they are given the very best chance to secure the job. This can include interview preparation, role plays, training on specific MS Office packages and extra insight into a firm's culture.
 
We help a full range of applicants, from legal secretarial managers, legal secretaries and PAs to trainees just starting out. As well as working for private practices, we work with in-house legal departments of major commercial organisations and leading Barristers Chambers.
 
For more information, contact us at permdesk@careerlegal.co.uk, call on 0207 382 4235 or visit our website, www.careerlegal.co.uk.