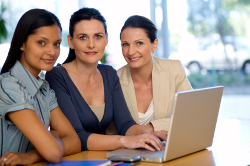 September is the beginning of the new academic year, and you may have been helping relatives or friends prepare for it. Whether it's the first day at reception class in a spick and span new uniform, or packing up the car to travel to a far-off university, there's a feeling of excitement and anticipation in the air. Why not get some of that excitement and anticipation for yourself, by starting a new course that will help strengthen your CV and increase your earning potential? 
More than ever before, Legal Secretaries and PAs are not restricted by conventional job descriptions. The legal world is changing, and if you look around you, you should be able to see many opportunities to expand your role in the firm or simply to make your contributions more valuable – to the firm and to yourself!  
If you are thinking about returning to study, where should you start? I would say that you should first ask yourself whether you are looking for a course that will enable you to perform your current role better or in more depth, or one that can expand your job to bring in new responsibilities and new skills. In other words, do you want to be better at what you currently do, or do you want new challenges? I have called these "career sharpening" and "career lifting" choices. The answer to that question will give you an idea of where to start looking for a suitable course and what subjects to start looking for. 
Career-sharpening
Don't allow yourself to coast, even if you are confident that you can do your current job well. Are you happy with your skill levels on all of the programs and apps that you use on a day-to-day basis? Are there some on which you've had no formal training? These days, Secretaries can be expected to be proficient with all sorts of programs, from accounting software to illustration software and desktop publishing. There's also an increasing tendency for Secretaries to be involved in the firm's social media profile, managing tweets and other messages. 
None of these activities are easy, and formal training is usually well worth your while, particularly because you will generally receive certification at the end of the training which proves that you have reached a certain level of proficiency. These certificates are great CV-builders, and they are independent evidence that you can move straight into a new role requiring those technical skills. They can get you an interview where in other circumstances you might not get one. 
Some of these courses can be expensive, so if, say, working on a specific accounting package is part of your job description, it is worth exploring with your firm whether it would be prepared to give you some financial help with the course fees to do your job better and take on more responsibility. Even if money is tight and financial help is impossible, you should get brownie points for demonstrating that you are keen to do your current job to the best of your ability and also that you can spot areas in which you can be of more value to the firm. 
Or do you wish you knew more about the legal system that you're a part of? There are many courses, both online and face-to-face, that can help with this, including ILSPA's own courses such as the Legal Secretaries Diploma and Single Subject Legal courses. Understanding more about how the law works can make your job much more rewarding, and definitely helps you decide whether you would like to specialise in working within a specific area of the law. There are some areas – conveyancing is a particularly striking example, but there are lots of others – where experienced Legal Secretaries can acquire considerable responsibility and become highly valued members of the team. 
Remember that if you are already an Associate or Fellow member of ILSPA you can apply for a continuing professional development (CPD) certificate if you have completed 12 hours of relevant study activities in the past year; you can find further details here. This also is a great CV-builder and demonstrates your commitment to excellence and keeping up to date.
Career-lifting
Are you feeling that you have hit the buffers as far as your current job is concerned? Is it all becoming a bit Groundhog Day? Taking up a course can help with this, too. Maybe it's time to look around – either at what you really like about your current post, or at another post that you might like to fill, and see what training you need to get you there.
If you are a Secretary at the moment and would like to become a PA, what skills would you need to demonstrate in order to get that job? Look at the PAs in your firm if there are any; and if not, get as much information as you can through personal and professional contacts or via the requirements in job advertisements. Then look at what courses you could take to demonstrate your ability to be hired.
Although it's difficult to generalise about the PA role, I would say that a good PA has extremely good technical skills covering a wide range of programs and apps, and an in-depth knowledge of their boss's practice. They quite often have reasonably good second language skills, particularly important these days when English law firms even outside of London have clients all over the world. These are all training opportunities. 
Good PAs also have excellent "soft skills" – presentation, communication and organisation. In fact, it tends to be the "soft skills" that make a really great PA. Good communication skills give your work performance that extra polish, and there are courses – both online and face-to-face – that you can take to assess or improve your own abilities. As far as organisation is concerned, you can find very helpful courses on time and diary management that will lift your skills into the Executive Secretary or PA level, and will provide certification for your CV. If you want an all-round introduction, there are lots of "move up to being a PA" courses out there, many with diploma status.  Reed Learning provide an excellent selection of courses in these areas; you can find further details here: www.reedlearning.com.
Make sure you are a careful customer when researching and enrolling on your chosen course. Check whether the course provider is recognised, and check testimonials from other students who have completed the course so that you can find out whether it did in fact help them move onwards and upwards.  
Whatever option and course you choose, we wish you the best of luck!