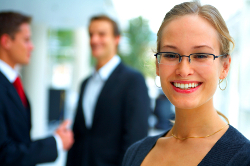 I began my career as a Legal Secretary after finishing college, where I studied a two-year Business Administration and Secretarial course. After working for two different solicitor's firms over the course of three years, I left the profession to work as an Administrator organising events at a local university. I had enjoyed working as a Legal Secretary, but I made the decision to change career due to the increase in salary, and I also liked the idea of gaining experience in events management. 
I worked at the university, in a number of different departments, for eleven years. Even though I enjoyed putting my organisational abilities to use organising and managing a variety of events, I became frustrated by the lack of satisfaction from my job, and I found myself moving from role to role in a number of departments around the university over the next few years. My workload also decreased in the summer months due to many students leaving campus, which only added to the frustration I was feeling.
I often looked back on how much I enjoyed working as a Legal Secretary, but I was concerned about changing careers due to the long break I had taken from the profession and also the inevitable reduction in salary. 
After much soul searching I eventually realised that I missed the legal profession and the variety of interesting work I used to do. I therefore decided to leave my job at the university and seek to re-establish my career in the legal sector. Although I had not worked in the legal profession for a number of years, I felt I had gained a number of invaluable transferable skills which I was optimistic any future employer would recognise. At this time I also became a member of ILSPA and used their online resources to create a professional CV.
I worked in a temporary administrative role for a couple of weeks but to my delight soon found a job working as a Legal PA for the Senior Partner of a well-established city centre firm near my home. Having worked in this role now for over a year, I am happy to say that it is the best decision I have ever made. I love my new job, and changing careers has given me the motivation and job satisfaction I craved for so long.
I would encourage anyone considering becoming a Legal Secretary or Legal PA to utilise the training and resources offered by ILSPA to help pursue their goals. I will soon be applying to take the ILSPA Legal Secretaries Diploma in order to further advance my knowledge of the legal system. 
Being a Legal Secretary can at times be challenging, but it is ultimately an extremely rewarding and fulfilling career.
Katie Glover
Legal PA, Hull