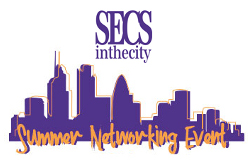 SecsintheCity, the UK's #1 job site for PAs and EAs, has announced a new event for PAs and EAs – the Summer Networking Event – which will take place on 9 June 2016 at the Crowne Plaza Hotel London - The City.
The event offers PAs and EAs an opportunity to speed-network with high-profile PAs and EAs, including:
-          Jules Clark, PA to the CEO at Eversheds LLP
-          Alison Boler, PA to the SVP of Legal at Sony Music
Mark Doyle, a training expert from The Method will present a workshop on 'Handling Difficult Situations in the Workplace'.
In addition, the event offers one-to-one CV and career advice and will include pop-up boutiques such as:
-          Jo Malone
-          Chococo
-          Moores of London
-          Little Ondine
-          Return to Glory
-          The Headshot Guy
Sown and Grown, a delicious new cereal brand, will also supply goodies for the event bags.
Mark Doyle said: 'We know that PAs and EAs have to deal with all sorts of challenges and difficult situations on a daily basis – and that part of the job is having the confidence to deal with whatever is thrown at you. I am really looking forward to sharing an innovative approach to help tackle some of those really difficult moments – and to meeting you all at the event.'
PAs and EAs can register their interest in attending SecsintheCity's exclusive networking event by following the registration link on the website:
http://www.secsinthecity.co.uk/article/register-for-secsinthecity-s-sum…