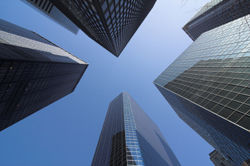 If you have been at all concerned about the number of job vacancies that are potentially available to you upon successful completion of your Legal Secretaries Diploma course with us, or are just leaving school or have been considering a change of career, you should certainly find more than a soupçon of inspiration in this article. Whatever your reason for seeking out job information, if you like the idea of a career in law, then you might be interested to know that a record number of law firms have been opening in the United Kingdom lately. 
Increased demand for legal professionals
We are set to have 1,000 new law offices opening in the UK this year! That's a fantastic 30% increase from 2015, according to the official statistics as reported by the Law Gazette. In fact, 612 new law firms already opened between 1 January and 31 July 2016, according to the Solicitors' Regulation Authority. By comparison, in 2015 only 815 new law firms opened all year and in 2014 just 807.
Happily, the numbers are up across all types of legal offices, and there is even a 40% increase in the number of sole legal practitioners. Openings also far exceed the number of closures, which is positive news for a profession that has experienced significant ups and downs in recent years.  
Ideal conditions for new openings 
The climate is right for more Solicitors and Barristers to set up shop. In particular, small firms are especially popular because of fewer prohibitive overhead expenses and regulations. There's an increased demand for boutique law offices, and there are major gaps in the market for niche practitioners and lots of resources available to help legal professionals.
Improved climate for boutique firms
Qualified Legal Secretaries needed! Small law firms now account for 85% of all UK law offices, and the Solicitors in them often rely on the assistance of trained Legal Secretaries, Paralegals and PAs. 
In particular, when a small, new firm sets up shop, they need educated and experienced support staff who are ready to run with the responsibility of helping get the office set up and organized, not to mention provide considerate and careful support for lawyers as they bring in new clients. 
Could this be the career for you?
If you excel at paying attention to detail, are articulate, find law fascinating and have a high level of integrity and professionalism, then a career as a qualified Legal Secretary might well be for you. 
With this great boom in new offices, your career prospects are looking very fair, even at a time when other professions and industries in the United Kingdom are struggling or experiencing greater uncertainty and transition. This is great news for any Institute of Legal Secretaries and PAs Students, school leavers or university graduates looking for a career with longevity and growth potential.
While on-the-job experience is highly valuable, backing it up with a qualification is certainly advantageous. This could be especially true if you've been working in a larger firm that is now restructuring as some Solicitors leave to work as sole practitioners or set up boutique legal service offerings. 
When the reshuffle happens, whether you're seeking greater recognition within your existing company or pursuing a fabulous new opportunity with a fresh, start-up office, your Legal Secretary qualification will help get you noticed. It will also serve to back up your experience, making it evident that you're a highly competent professional in your own right. 
Being a Legal Secretary is a demanding, satisfying and rewarding career. If you think it could be the opportunity you're after, don't hesitate to reach out to us here at the Institute of Legal Secretaries and PAs.