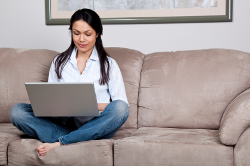 Deciding to pursue a course in law really can prove to be a challenge at times. Every now and again you might feel distracted when your family needs you or your friends are enjoying active social lives. At these times, a question that may spring to mind is "Why am I doing this?"
The Benefits of Study
You might be studying a course because either you want a change in career or you want to advance your current career. As you progress through your course with the Institute of Legal Secretaries and PAs, apart from working towards gaining a valuable qualification, you will also find that a myriad of other perks will derive from your studies, including an increased sense of confidence, the ability to be more focused, a marked improvement in your word processing skills, an understanding of how law affects our everyday lives and the essential organisation skills that originate from juggling a home life with a good number of study hours.
33-Year-Old Appointed as Crown Court Judge
If the above benefits weren't enough, it is worth remembering that when you do decide to study law, you are actually opening the door to numerous employment opportunities in the future, as 33-year-old Anna Midgley will no doubt confirm after her recent appointment as a Crown Court Judge. Anna has won numerous accolades ever since she graduated seventh in her year from Cambridge University; her appointment as one of the youngest Crown Court Judges in recorded history really does provide a tremendous inspirational boost for anyone looking to pursue a career in law.
A 19-Year-Old Magistrate
If you thought Anna was very young to take up her role as a judge, that is nothing compared with the accomplishment of 19-year-old Lucy Tate, who was appointed as a Magistrate on the bench in Pontefract in 2006. She was the youngest person ever to be appointed in the role of Magistrate, though you should bear in mind that this position does not require as much legal training as that of Crown Court Judge would.
The main point in discussing these two inspirational women is to prove to you exactly how far you can go in this industry. The next time you feel a little overwhelmed by your study material, remember how two people managed to achieve their goals at such a young age. There is nothing to prevent you from doing exactly the same.
For students who are studying our courses at a later stage in life, never feel put off by the achievements of those far younger than yourself; instead, draw upon the extra life experience and knowledge you have, and use these to your own advantage. Don't let those little doubts creep in which say you are too old and past such things; this is never the case whilst there is still breath left in your body and the enthusiasm and zeal to pursue an alternative avenue in life. In fact, our article on the Legal Secretarial job market from this month's edition of our journal states that women over 40 perform the best in pre-screening tests for job applications.
I wish you the very best of luck with your course, my friends, and do try to remain focused and positive until the very end!