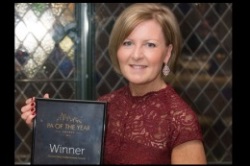 At SecsintheCity's PA of the Year Awards 2017, there were two Legal PA winners. Meet Lyn Lennox, Legal PA at The Law Society and winner of the Outstanding Achievement Award.
How did you become a PA?
I studied a PA Diploma and A levels at college, after which I became a Legal Secretary at a major London law firm. After this role, I was lucky enough to be recruited as a PA to a Chairman of a London surveyors.