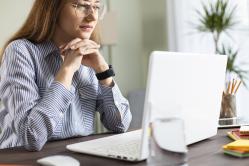 Are you a new Student? Or, in the middle of studying a course but finding it difficult to stay motivated? Perhaps you are returning to studying after a long break and are not sure where to begin? Whatever stage you are at in your course, it is never too late to start building good study habits. Improving your habits will make your study time efficient, productive and far less stressful.
Here are ILSPA's top tips for creating good study habits:
Establish your learning type
Not everyone learns the same way. The best tool you can give yourself as a Student is to establish what learning type you are. Once you understand this, you can tailor your study time to make sure it meets your needs. When you are studying, you may prefer to read out loud, rewrite text or even act something out to commit it to memory. Your preferred study method gives a good indication of what sort of learner you are. The three main learning types are visual learners (seeing), audible learners (hearing) and kinetic learners (doing). We have some fantastic articles about how to recognise and how best to study depending on your learning type:
Study Methods - Visual Learners
Study Methods - Audible Learners
Study Methods - Kinetic Learners
Familiarise yourself with the process
When a training provider produces a course, a lot of time and thought goes into establishing how it should be studied, assessed and marked. As a Student, all this information is available for you and you can find this in the Student Guidance section of your course material. When Students receive confirmation of their enrolment, we draw their attention to this section and advise them to read through it before starting their studies. The reason for this is because it ensures that Students are familiar with the process that their course is going to follow and avoids surprises. Students who read this section know how to study each unit, submit work, ask for help, and they understand what will happen after they have done each of these steps. This information helps them progress through their studies smoothly.    
Give yourself time
Leaving things to the last minute could very easily go down as the number one worst study habit. No matter how good you are under pressure, you are setting yourself up to fail. All it takes is one computer issue, one distraction, one family issue, one WIFI failure and you are panicking. Giving yourself time is the best policy to ensure that you can study to the best of your ability. It removes the pressure and gives you flexibility. All ILSPA courses come with a deadline of one year. The average time Students complete our courses in is 3-6 months, although we have known some Students to complete them within a month when working on them full time. We encourage you to use your time wisely to ensure that you complete your studies.
Make a study schedule
Study schedules help you stay on top of your workload, avoid stress and help you meet targets. They also help you fit studying around your other commitments and allow you to have regular downtime to recharge, without falling behind. These things are all important to ensure that you study effectively and do the best you possibly can to achieve your goal. You can find out how to create an effective study schedule here.
Find an environment that works for you
Sometimes good study habits aren't about how you study but where you study and, similarly to your learning type, your study environment will be individual to you. For many people this will be a quiet and calm place where they can concentrate without distractions. However, for some people quiet and isolated equals boredom and unmotivated daydreaming. These people might benefit from more communal study areas like libraries or coffee shops. The important thing is to find what works for you. You will often find that your preferred study environment will depend on your preferred learning type. For example, if you are a kinetic learner, you will probably need room to move around, privacy to speak aloud and even possibly listen to music.
Ask for help
It is sometimes assumed that distance learning and online courses are designed to be studied independently as there is no physical attendance required. Although there is plenty of personal study involved in ILSPA's courses, this does not mean that you are expected to study alone. You always have access to help and support. You can submit your queries and we aim to answer them 24 hours. We strongly encourage you to get in the habit of asking for help whenever you are unsure as it can make all the difference in you successfully passing the course. You might need clarification on a test question or guidance on an assessment. Whatever it is, we are here to help you.
Check, check and check again
We would hope that all Students know better than submit any work or test without checking it through first. But how about a second or third time? How about asking another person to check it for you? The truth is that you can never check something too many times. A great study habit that we encourage is to check through once when you finish it and it's fresh in your mind. Go away and then check it a second time one or two days later with fresh eyes. Then check it through a third time when you are ready to submit it. It could be beneficial if you can get a friend or family member to check through as well. The important thing to remember is not rush to submit it until you are happy with it.     
Be kind to yourself
Finally, the most important study habit we can recommend is to be kind to yourself! Studying a course can sometimes be hard and you can feel under pressure. So, try to follow the advice above, use the tools available to you and be patient with yourself to ensure that you complete the course successfully.