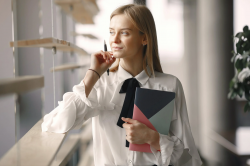 At the end of last year, SecsintheCity published a motivational piece entitled "5 Key Attributes of a Great PA". This article showed what qualities PAs have and gave readers an idea of what skills and characteristics they need to excel in the role. Based on the success of this piece, in collaboration with The Institute of Legal Secretaries and PAs, their sister site, TotallyLegal wanted to expand on this topic further and talk about the key attributes of a Legal PA.
As mentioned in the previous article, great PAs need to be flexible, proactive, organised, positive and communicate well. As one of many different types of personal assistant, Legal PAs need to embody these skills to be successful. However, working in the legal sector means they benefit from having other attributes which help in their specific field. 
Knowledge of law and legal procedure
A notable difference and additional skill that a Legal PA needs is legal knowledge. In order to support their fee earner properly, they need to understand the area of law that they are working in and the legal procedures that accompany it. Many Legal PAs complete legal forms, compile documents, and send out correspondence on behalf of their fee earner, as well as other more traditional PA duties. In order to do this competently they need to have a good understanding of the law.     
Confidentiality and subtlety
Discretion and confidentially are key skills for Legal PAs. Clients will need legal assistance in difficult and sensitive times during their lives. Not only do law firms handle confidential information but they also have an insight into the client's personal life and situation. This means that PAs who work in this sector need to be both sensitive and subtle, as well as being aware of legalities such as data protection.     
Relationship building skills and teamwork
Legal PAs work closely with one, or sometimes multiple, fee earners. Their job is to support and assist these fee earners to allow them to do their job as efficiently as possible. Building good relationships with each other is key to this role. This enables them to gain greater understanding of their fee earner and, in time, be able to anticipate their needs.
It makes a Legal PA's job a lot easier if they can create strong relationships with the people they are working with. In bigger firms Legal PAs work in departments or teams, even sometimes overseeing the latter. In smaller firms Legal PAs may be working with the office as a whole and need to integrate themselves as an essential part of the wider team. Building authentic, professional relationships with everyone involved helps to make their working environment more enjoyable and more manageable.
Along with professional relationships, Legal PAs also have client relationships to maintain. They are often the first port of call for anyone contacting the fee earner and, therefore, need to demonstrate an attentive and cordial manner when creating a rapport with them.
Attention to detail
Anyone in a business support or admin related role should understand the importance of good attention to detail. The legal sector may be one of the areas where details and accuracy are the most important, and for good reason. A mistake in a legal document can have terrible and sometimes irreversible consequences. Therefore, impeccable attention to detail is vital to the role of a Legal PA.
Problem solving
As mentioned previously, a Legal PA's role is to support their fee earner. One way that Legal PAs do this is by taking on responsibilities such as planning, organisation and administration to free up the fee earner's time, enabling them to focus solely on their legal work. Having this level of responsibility means that Legal PAs must be capable of solving problems and using their initiative without having to constantly defer back to the fee earner.
If you would like further information about the role of a Legal PA, or how to join the profession, please contact The Institute of Legal Secretaries and PAs (ILSPA).
This article is a collaboration between ILSPA and our partner TotallyLegal.  
The Institute of Legal Secretaries and PAs (ILSPA) is a professional body who are dedicated to your career every step of the way. Whether you would like to become a Legal Secretary or advance your Legal Secretary career, they are there to support you through your journey.
TotallyLegal is the UK's  number one job site for Legal Professionals. For more interview advice, industry insights and PA CV tips, head over to the TotallyLegal blog.