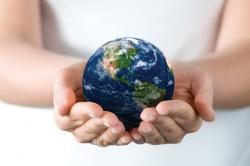 One of the many advantages of being a Legal Secretary is that it's not a dead-end job. Not only can you receive a higher salary when you gain experience, but you can also work your way up the legal ladder. Paralegals, Legal Executives and Solicitors have all been known to start their careers as Legal Secretaries. By being able to gain valuable experience on the job and having the option of taking some additional training, Legal Secretaries have incredible career prospects.
ILSPA believes that our Students have the potential to achieve ambitious career goals with enough confidence and determination. This belief has been supported through the many high-achieving Students who have graduated with us.
Take Charlotte Moon, for example. Studying ILSPA's Legal Secretaries Diploma course prepared Charlotte for a Legal Secretary role. She quickly progressed in her firm and supported a Solicitor and a Barrister with their work. Wanting to progress further, she joined CILEX and enrolled on their Level 3 Law and Practice course. Charlotte said that studying with ILSPA gave her the confidence to know that she could do it. She passed the course and qualified as a CILEX Paralegal. Shortly after, she was promoted to a Junior Caseworker at her firm. Not stopping there, Charlotte then enrolled on the Level 6 Law and Practice Diploma and became a qualified Legal Executive Lawyer! She specialises in Family Law and opened a Family Law department at her current firm with two managers. Now Charlotte is one of the leading caseworkers in the Family Law department.
Michelle Clarke became a fee earner after achieving our Legal Secretaries Diploma and then specialising in Civil Litigation through our Advanced level course. Michelle progressed from Junior Legal Secretary to Legal Secretary, then to Senior Legal Secretary/Branch Administrator. From there she moved to a different law firm, working in a completely different area of law. After gaining experience and knowledge on the job and receiving a distinction for ILSPA's Advanced Diploma, she was offered a hybrid role where she splits her time between legal secretarial work and fee earning.
There is also Jacqueline McGuigan, who started her career as a Legal Secretary and is now a Lawyer. Jacqueline initially worked as a Legal Secretary to fund her studies in social work but found that the two areas were linked through the pursuit of justice. She realised that she could make a positive difference to social equality through the legal system. With luck on her side, the firm Jacqueline was employed at funded her studies to become a Lawyer and then offered her a partnership on the day she qualified as a Solicitor! Jacqueline even attracted media attention during a famous employment law case.
If you are interested in reading more inspiring stories like these, take a look at the Career Experiences section of our Legal Secretary Journal.
These amazing achievements show that you can accomplish anything if you put your mind to it. Legal Secretaries have great potential within the legal sector and if you want to progress, you can! Whether you are currently studying one of ILSPA's Legal Secretary courses, you have recently started working as a Legal Secretary, or you have been working in the profession for some time, the legal world is your oyster. Think about where you want to take your career and find out what you need to do to get there.
There are many different organisations who can help you. Here are a few:
The Lawyer Portal: This website provides some excellent advice on legal careers. It can help you decide which path to take and provides information on what's required for each role, whether you are interested in becoming a Paralegal, Legal Executive, Solicitor or Barrister. You can find guidance on the positions you can obtain without a law degree as well as the ones available to graduates.
The National Association of Licensed Paralegals: NALP is a professional Membership Body for Paralegals. Through its centres, NALP offers recognised and accredited paralegal qualifications and training courses. These qualifications cover all you need in order to secure work in the legal services sector, public or private sectors, or to start your own practice. To study NALP's Level 4 Diploma in Paralegal Studies, you need to be an ILSPA or CILEX Level 3 Graduate.
The Chartered Institute of Legal Executives: CILEX is the professional association and governing body for Chartered Legal Executives and Paralegals. CILEX offers a non-graduate route to qualification as a Lawyer, as well as providing apprenticeships, which gives law graduates an alternative to the Legal Practice Course (LPC). Those without qualifying law degrees can take the full CILEX route, which comprises of their Level 3 and Level 6 qualifications.
The Law Society: This is the independent professional body for Solicitors in England and Wales. It provides helpful advice on how to become a Solicitor and information about what the role involves. You can find information on the different routes you can take to get there with or without a law degree.
Law graduates often take our Legal Secretary courses to gain the vital practical skills they need to work in a legal environment. Our qualifications help them to get their foot in the door and work their way up the legal profession. Cardiff University, for example, has created a partnership with us so their Students receive the skills they need to improve their job prospects. As you can see from the information provided by the various organisations we have listed, it is not mandatory to have a law degree to progress in law as there are several other routes available.
We wish you the best of luck with your career! We love to hear about our Students' journeys, so please get in touch if you have a story to share.