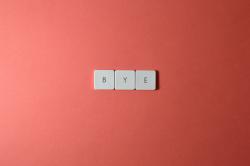 Although resigning from a position can be a daunting prospect for most people, it's actually very common, especially at the start of the year.
In fact, data from website 'Statista' found that 'in the first quarter of 2022 approximately 354,000 job-to-job resignations took place in the United Kingdom, which was one of the highest number of resignations taking place in a single quarter during this provided time period.'
But even if the prospect is a welcome one, it's important to follow the best practice when handing in your notice to ensure leave your position with appropriate courtesy and respect. Part of doing this correctly is by handing in a formal resignation letter that includes all the necessary information regarding your departure from the company.
To avoid any missing information or misunderstandings, read on for our pointers on writing your resignation letter, and all of the essential information you need to include.
State a clear intention to leave
Ensure you begin the letter by stating your intention to leave the business clearly, and offer a brief explanation for leaving, for example, to begin a new position, relocation, or a return to education. This does not need to be too detailed, but it must be clear and immediately evident that the letter is one of resignation.
Keep it brief
Your resignation letter doesn't need to be a long and comprehensive list of the reasons that you've decided to leave your position; you can save this for your exit interview. Should you feel that the disclosure of these reasons is both strictly necessary and beneficial for the company, it is advisable to save these for face-to-face discussions and keep your formal resignation letter as brief and to the point as possible.
Confirm your final day of work
Make sure you've checked your contract of employment and that you've given the correct notice period. Then confirm your final day of work within the letter of resignation. It is important to get this right and ensure you have this in writing, to avoid any disputes or complications further down the line.
Include contact information
Make sure you address the letter formally, close, sign and date it, as well as including your contact information. A resignation letter acts as a formal document for the HR department to use and will be kept on record by your company, so including these details is essential.
Keep it positive and say thank you
Even if the circumstances around you leaving the role aren't wholly positive, you should remain polite, cordial and strictly factual throughout your resignation letter. It's important to thank them for the opportunity to work for the company and to leave the business on a positive note rather than burning any bridges.
Although you're likely to have far more in-depth conversations with the appropriate parties about your intention to move on from the business, it's still important to cover bases by following your company's processes and providing a formal letter of resignation, even if you've already spoken the points to your managers or appropriate parties. This ensures both yourself and your company have a statement in writing to fall back on in the case of any disputes or discrepancies.
Author: Holly Dixon
Executive Delivery Consultant at Heat Recruitment