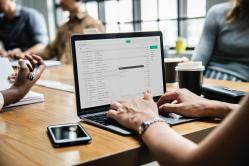 How many emails do you have in your inbox right now? 20? 50? More than 100? If your number is anything higher than zero, I have some tips for you!
For most admins, email is a major pain point. In the time it takes you to read one email, three more pop up. Add that to all your other administrative duties, and the thought of a clean inbox seems almost laughable. But these simple strategies can make inbox zero a reality!
Change your mindset
Think of your inbox as a processing facility rather than a warehouse. The "package" (the email, in this case) is sent to the "facility" (your inbox) to be dealt with, not stored indefinitely.