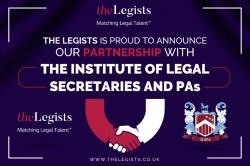 ILSPA is delighted to announce our new partnership with The Legists.
The Legists is a job platform dedicated to the legal profession, optimising the best innovative recruiting solutions to find the ideal employer or employee for you. Whether you're looking to advance your career, break into the industry or find your next employee, The Legists is a good place to make that happen.
The job platform advertises a broad range of roles from private practices (sole practitioners, boutique firms, City firms, national firms), international and US firms, in-house organisations, and the public sector. They host opportunities for a variety of legal positions including Paralegals, Clerks, Secretaries and all support staff.