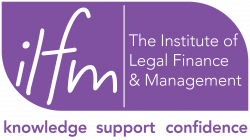 It is with great pleasure that we announce our new partnership with The Institute of Legal Finance and Management (ILFM). As two organisations committed to the education, progression, and recognition of those working as support staff in the legal sector, we are proud to have a partnership that enables us to raise awareness of the invaluable work these individual specialists do in the profession.   
Emma Stacey, ILSPA's Chief Executive commented:
"The Institute of Legal Secretaries and PAs recognises the fantastic work ILFM does for its Members and the legal industry as a whole. Each legal professional has valuable skills which contribute to the efficiency and smooth running of legal departments. Firms that help develop the full potential of their support staff optimise their overall performance and ensure that clients are provided with an excellent service. Organisations which strive to provide training, resources and support for legal professionals have a very responsible role in upholding and maintaining the required standards. ILSPA is delighted to form a partnership with ILFM as industry peers".
The Institute of Legal Finance & Management (ILFM) aims to use its educational platform and membership status to help students, legal finance, compliance and management professionals, and employers regardless of ethnicity, diversity, or maturity. The ILFM is dedicated to raising standards in the legal profession and acknowledging the vital work of support teams. They offer three qualification levels - Diploma, Associate and Fellowship, as well as a range of Membership benefits.
They also hold a range of events including:
Yearly in-person conferences at The Law Society
Yearly virtual conferences
Monthly Lunch & Learn webinars with Guest speakers and presenters (open to non-members)
Monthly Virtual Branch Meetings (VBMs) open to all their members as a chance to let their hair down, swap stories, offer advice, ask for solutions for challenges, etc.
Quarterly Legal Finance Management Forums (virtual and in person)
Tim Kidd, Chief Executive of ILFM said:
"The ILFM works hard offering career opportunities into the legal industry in accounts, compliance and law firm management. Partnering with the ILSPA will give our existing members more chances to engage with their peers in other support roles whilst continuing to learn and develop. We understand the pressures on law firm employees to adhere to regulations, shoulder compliance responsibilities, support the lawyers and help the clients. Both the ILFM and ILSPA's aim is for all law firm partners and owners to acknowledge their support staff, their talent and qualifications, leading to better retention in a positive and rewarding workplace culture."
You can find further information on ILFM, along with their qualifications and Membership services here.