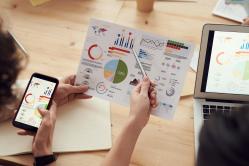 SecsintheCity, the UK's number one specialist job site for PAs, EAs and business support professionals, has published the results of its 2023 salary survey. Over 1,500 professionals detailed the intricate insights of their working lives, shining a light on salaries, bonuses and benefits.
Following a year of uncertain economic security, a resilient profession, championed by its professional employees, came to the forefront. Demonstrating the demand of a candidate-driven landscape, 60% of respondents received a salary increase, up 36% from last year's figures. Fifty-three percent were awarded a bonus, and 66% were found to be in a hybrid working model – something that 30% of the SecsintheCity community noted as the factor they valued most in their job.
Our valued Legal PA and Secretary niche had much to celebrate. Comprising 5% of our audience, Legal PAs were the most likely job title to take home a pay boost, with 78% receiving an average bonus of 4% or more. Alongside this, 71% of Legal PAs and Secretaries received a pay increase, with the average salary now standing at £41,280 per annum. Exceeding the average, 76% noted a hybrid working schedule, demonstrating flexibility and "structured freedom" as a new norm within the profession.
Naturally, salaries are shaped by experience and tenure, industry, and location. For new starters, 2023 presents a prosperous year to engage in the business support landscape, with the average starting salary outweighing that of individuals with one to three years' experience in their current role under their belt. The continued fluidity of the recruitment market is apparent, with just shy of a fifth of our audience enjoying the perks of being a new starter. Turning towards the other end of the spectrum, it's welcoming to note that loyalty from business support professionals has reached an all-time high, with 32% marking a 10-year milestone at work.
Regarding sector, the banking and finance industry retains its prominence, presenting itself as the second most lucrative industry to be a part of. For Legal PAs and Secretaries within the technology field, 2023 demonstrates a lift in prosperity, moving from seventh place to third within our league table, with a 10% increase year on year. Marketing also jumped from 19th place to sixth – a 34% boost from 2022.
Location-wise, London retains its top spot in the table, boasting a 5% increase in average salary, which exceeds the 4% long-term average annual growth detailed since 2018. East London saw a soaring 36% increase on last year's figures, presenting itself as the most desirable location to work in across the UK.
The salary story of 2023 for Legal PAs and Secretaries is undoubtedly positive, from pay to perks and flexibility. We strive to see the continuation of positive news in the year to come.
Dive into the details – download the full SecsintheCity 2023 salary survey report today.
Discover the latest Legal PA and Secretary jobs on the site.