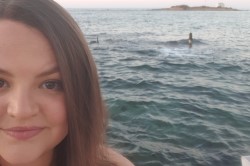 When Charlotte Moon enrolled for ILSPA's Legal Secretaries Diploma course in 2011, she knew that she wanted a career in law but probably never imagined that one day she would be opening up her own department in a law firm. Charlotte in now a Senior Caseworker specialising in Family Law and has just completed her Level 6 Law and Practice Diploma. If you are wondering what progression is available for a Legal Secretary, then Charlotte's story is a real eye-opener.
How did you find your studies with ILSPA?
I really enjoyed my studies with ILSPA. I studied at Regents College and the staff and materials provided were very helpful! I always had someone on hand for help if I needed them. As a result, I gained the knowledge I needed in order to not only pass the course, but it also prepared me well for my future career as a Legal Secretary.
What was your professional background before studying to become a Legal Secretary?
Prior to studying to become a Legal Secretary, I was working as a Personal Assistant for a building contractor. This was my first job after sixth form. Whilst I loved this job, I always wanted a career in law, so I signed up to Regents College to do the ILSPA diploma and studied on a part-time basis, two evenings per week. This arrangement was perfect for me and allowed me to study for the ILSPA diploma whilst continuing to work.
What steps did you take to secure employment after achieving ILSPA's Legal Secretaries Diploma?
After achieving my ILSPA diploma, I joined Office Angels and a couple of Legal Recruiters and started looking for a Legal Secretary job in London. I attended roughly five interviews, which all went well, but unfortunately, a few of them needed a Legal Secretary who has worked in the legal profession before and therefore employed other candidates, which is understandable. I then came for an interview at my current law firm in Central London and got the job as a Legal Secretary/Typist.
Please tell us about your career since qualifying with ILSPA.
Since qualifying, I have progressed a lot in my career. As a result of the ILSPA diploma, I had gained invaluable knowledge which prepared me for working as a Legal Secretary. I quickly progressed and became well integrated in my firm, working directly under my managers, a solicitor and a barrister. As I felt I wanted to further progress and felt confident to do this, I applied to join CILEX and enrolled on a Law and Practice Certificate at Level 3. This was also a part-time course which I went to two nights per week after work at the University of Westminster. I knew I would be able to do this as I had done it with ILSPA and it had worked well for me. Studying with ILSPA also gave me the confidence to know that I could do it. I completed Level 3 and qualified as a CILEX Paralegal. Shortly after, I was promoted to a Junior Caseworker at my firm and was given the opportunity to learn from my colleagues and run a few simple cases of my own. I then enrolled on the Law and Practice Diploma at Level 6 and have just finished my second and final year of exams which, if I pass (fingers crossed!), will mean that I will be a qualified Legal Executive Lawyer and will also become Chartered after completing a 12-month working profile. In my first year of my Level 6 Diploma, I chose to specialise in Family Law and have recently opened a Family Law department at my current firm with my two managers. I can honestly say that I look forward to coming to work on a daily basis. I have now been promoted again to a Senior Caseworker at my firm and am one of the leading caseworkers in the Family Law department.
What advice would you give to Legal Secretaries who want to advance their careers?
I honestly could not have progressed to the point that I am today without initially completing my studies with ILSPA. It set me up for a career which I would not change for the world and I will always be very grateful for. I honestly would never have thought that I would have ended up here when I was working as a PA at a building contractor's, but it just shows that with the right determination and resources, anything is possible. A lot of my friends went straight to University after sixth form, whereas I went straight into work and then studied whilst I was working to get where I am now. There were times that I wondered if I had made the right decision, but now I know that the path I chose to take was the right one for me. If I were to give any advice to Legal Secretaries who wish to advance their careers, it would be to not think that it is not possible because it is, and to make the most of ILSPA because it will give you the tools you need to get to where you want to be!
If you are interested in studying to become a Legal Secretary like Charlotte, please take a look at our course information. Students receive one year's free Membership of the Institute, which includes guidance to secure employment and CV help. To find out more about our Membership benefits and how we can help you with your career, take a look at our Membership information.