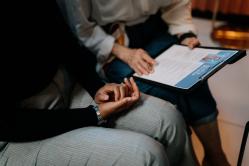 Whether you are newly qualified and looking for your first role in the sector, or an experienced Legal Secretary on the hunt for your next position, creating a bespoke CV that matches the job advert, is the best route for advancing to the interview stage. In a competitive job market, it's more important than ever to curate a stand-out CV to catch the recruiters' eye. So, you may ask yourself, where's the value in keeping this essential document updated?
Here's the thing, if you've been in your role for a few years, then it's a challenging task to dig your CV out of the archives and start the revision process. It can be overwhelming! With a word-perfect CV being your gateway to securing a new role, imagine how refreshing it would be to click 'apply,' without the hassle of remembering a few years' revision or starting from scratch.
The Application Process
It's simple, after you've been in your role for a certain amount of time, you can forget your specific skills and achievements. By updating your CV as and when you take on an additional responsibility, learn a new skill or achieve an award or personal goal, you keep your employable attributes at the forefront of your mind. You could include, for example, the completion of ILSPA's Criminal Law Advanced Diploma course, or that you became responsible for managing an additional fee earner's diary.
Understanding your skillset will also help in writing covering letters, as well as during the interview process. By having your CV ready to go, you can apply for a new job with ease. In simple terms, the less time you have to spend on creating your CV, the more time you have to focus on tailoring it to reflect the job advert.
The Interview Stage:
Your CV is more than your career history, it's a reminder of all your professional achievements to date. Being able to quantify your achievements will help you come up with detailed answers to scenario questions, presenting you as a strong candidate in an interview.
Help yourself progress to the next stage - for further interview advice, discover Secsinthecity's article 'how to flourish in a PA job interview'.
____________________________________________________________________________
Article contributed by ILSPA Partner, SecsintheCity - the UK's only dedicated PA job site, delivering the latest Legal PA and Secretary jobs straight to your inbox.
Discover our dedicated CV and Career Advice blog, to unearth the latest CV and interview tips, career guides and industry insights.
Get Headhunted:
Upload your CV to our site today and get shortlisted and headhunted by recruiters. Stay on top of the search - with employers setting up CV alerts for candidates who are currency active, uploading an up-to-date CV will place you as a prime candidate for interview. Display your industry-specific expertise, current, and/or desired job title and latest achievements, and let us do the rest.
 We wish you the best of luck with your application venture.