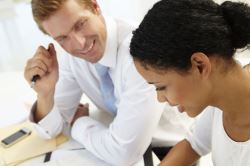 By Maudie Powell-Tuck and Becky Kells, AllAboutLaw
Where should I begin?
A good start is deciding what kind of work experience you actually want to get. There are thousands of law firms and legal organisations in the UK, so you've got to figure out which ones interest you. 
Perhaps the best way to do this is to decide on an area of law to explore. You could pick a specialist firm or organisation, or alternatively, you could go for a place that practises law more generally.
The Law Society has a really useful tool which lets you search for solicitors by geographical location and area of law. This is an invaluable way of finding out about the firms near you that have practices in areas of law that interest you.
Thinking outside the box
As you will know as an aspiring Legal Secretary or PA, there are loads of career paths within law, and they are not limited to solicitors and barristers.
Don't restrict your search just to law firms and chambers; there are plenty of other legal organisations and charities that are well worth looking into. You might even want to try getting work experience with an in-house legal team, or at a paralegal practice.
If you're interested in an area of law such as banking and finance, it might also be worth looking into getting non-legal work experience at a finance company. Bear in mind that law firms wouldn't exist without clients, so being able to view things from a client's point of view is an invaluable skill to have.
Similarly, undertaking work experience at any functioning business is going to give you vital awareness of the types of clients with which law firms work. You could first obtain work experience as a secretary or PA within a role that is not law-related; this will still be relevant, as you'll practice similar skills and gain the commercial awareness needed to thrive in the legal sector.
When to apply
Just as if you were applying for a job, start looking for work experience well in advance, at least six months before you plan to begin. Informal work experience places are highly competitive; therefore, some companies, firms and chambers have yearlong (or more) waiting lists.
Firms will also know when their busiest periods are. They may be aware that they need an extra pair of hands on deck in a particular month of the year, and applying in advance puts you in with a good chance of being considered at the appropriate time.
Expect to send out a huge number of work experience applications and only get a few responses.
Where to look for legal work experience
The Internet 
First things first: you should have a look on the websites of the firms, chambers and organisations that you would like to work for, as they might already have details of work experience programmes they offer.
If this is the case, they will probably have an application form for you to fill in or will provide contact details for the people in charge of work experience applications. If they don't, it's still worth sending them a speculative letter or email asking whether you can do work experience. You should tell them why you want to do work experience with their company and include your latest CV. It's a good idea, at this point, to highlight your career ambitions – tell the employer that you hope to become a legal secretary, as they may be able to tailor your work experience directly to your needs.
Making connections
Try to find out the name of the person you need to contact, so you can personally address your work experience application. It's a good idea to search for someone who works in the recruitment department. 
You should also follow up with a phone call if they don't respond after a week. Politely ask whether they have received your email. 
Networking and work experience
In an ideal world, getting work experience would be meritocratic, but, in reality, one of the best ways of getting work experience is through the people you know.
Think about all the people you know, i.e. family friends, neighbours, aunts, uncles, admirers and acquaintances, and see whether anyone knows anyone working in the industry you want to work in. This can apply to law firms, but also companies outside of the law which have in-house law departments. 
Ask them to help you find work experience. Even if their own firm or organisation might not offer work experience, they might be able to put you in contact with someone else who will!
Go to law fairs
Law fairs are your chance to find out more about certain companies, meet their employees and get an idea of how to get work experience with them. Talk to them, get their contact details and see whether you can wheedle some work experience out of them.
Use social media
Finally, you should create a LinkedIn profile, join Twitter and follow the companies that interest you. You could maybe even start a blog about the industry! That way you might get to meet industry people online.
As an aspiring legal secretary, you have a niche perspective on the world of law – there's a lot that you can share regarding your journey and your experience of the law sector from this position. Now, more than ever, it's helpful to get your voice out there online.
A note on your rights
Historically, work experience has often been cast as working for free; however, this is illegal, and everyone who completes a period of work experience is entitled to the National Minimum Wage: £5.90 if you're aged 18-20, £7.38 for people aged 21-24 and £7.83 for those aged 25 and over.
The major exception that applies here is if you are volunteering for a charity, an NGO, a voluntary organisation or an associated fundraising body. If so, you may not be entitled to a wage if you're volunteering legal secretary services to a non-profit charitable cause, but you couldn't work as a "volunteer" within a law firm making its own profit without a charitable cause.
Working for free is not an option for the majority of people, and it's good to know that even if you do end up undertaking some unpaid work experience, you can claim back the wages that you are owed via HM Revenue and Customs.
AllAboutLaw is an online platform for anyone pursuing a career in the law sector. As well as advertising jobs in the sector, we have a wealth of advice to help you to develop your career, and a dedicated section aimed at building your commercial awareness. For more information, head to allaboutlaw.co.uk.