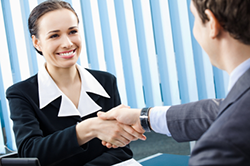 Career advancement is simple to achieve if you put your mind to it and have the right attitude. You need to make sure you stand out from the crowd and are recognised for your worth.
Ensure you're noticed and credited for work
First and foremost, ensure that you take the credit for any great work you have achieved. Never be shy or humble in this respect or let others take the glory. There are sometimes people who are standing by who will do exactly that! Bring your successes to the attention of your bosses and claim that credit in your next appraisal. Prove to your boss that you actually go above and beyond your standard job description; however, be careful to find the right balance here. No-one likes overtly ambitious employees, as this can come across as arrogance when it is not sufficiently contained.
Advance your knowledge and skills
If you feel as though you are destined to languish at the same type of level in your career for many years to come, it is time to become more proactive and do something about it. This is where ILSPA's courses could be very helpful. While employed as a Legal Secretary, it is most likely that you will work in one area of law more regularly than any other; therefore, why not investigate the possibility of studying an advanced level course in one of the following areas to become more of an expert in that field:
Civil Litigation
Corporate and Commercial law
Criminal Law
Family Law
Land Law and Conveyancing
Wills, Probate and Administration
An advanced level course will provide you with excellent knowledge of the particular subject, and your employer is bound to be impressed by your keen initiative to advance your skills. You will be able to take on more responsibilities and enable your boss to have more time for other areas of work. ILSPA's Single Subject Legal courses are great value for money compared with other educational institutions – and there is even a possibility that your employer may be able to pay your course fee for you. Many of ILSPA's students' fees are paid for by their firms. 
No matter what, one of these courses should prove to be invaluable in your career as a Legal Secretary, as you will gain an in-depth knowledge of law and work your way up the ladder, whether it's within your present realm of employment or whether you want to apply for a more experienced role in another firm.
Higher level courses
If you have a real passion for law and want to progress beyond the role of a Legal Secretary, we highly recommend that you contact the National Association of Licensed Paralegals. NALP can offer you excellent career advice and provide Paralegal courses from Level 4 and up. Their Level 4 Diploma in Paralegal Studies is suitable for Legal Secretary Diploma graduates and enables them to progress with their careers. You can find NALP's website here: www.nationalparalegals.co.uk.
Take the initiative
When you know you want to advance your career, the onus is on you alone to do something about it. Life is too short to sit back and wait. Take the initiative and thoughtfully plan how you intend to prove yourself to those who matter and start to ascend those rungs of the ladder. Show your employers that you are confident in your work and in taking on extra tasks, and shine as a member of the team whom others trust and can turn to for help and guidance. If there is no scope for advancement in your current role, start looking for a new position where you can show your worth and take the next step up.
Contact ILSPA by telephone or email if you would like to receive advice. We are here to help, whatever stage you are at in your career.