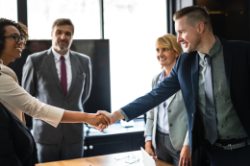 Do you know when the best time of year to job hunt is? With summer holidays having drawn to a close and schools back in session, the momentum in business begins to build back up as executives ready themselves for the final push before the years' end. If you're searching for the next step in your career, there's a good chance you're wondering when the best time of year to job hunt is. Perhaps you've been told to hold fire by colleagues concerned that employers are solely focused on tying up loose ends – in fact, that couldn't be further from the truth.
As families return from holidays, work resumes its normal course and hiring managers are free to focus their energy on sourcing and screening candidates. Since executives often see unfilled jobs as redundant come December, heads of departments will typically treat the autumn months as their final opportunity to bring on board the right people to their teams. Refreshed from their summer and ready to tackle challenges head on, more and more managers are restarting recruiting drives throughout September.
But what is it about this month that makes it prime-time for job-seekers?
Ending the year on a high
Performance in the final quarter of the year can strongly influence investor sentiment, recruiting budgets and company bonuses. Refreshed from their holidays, hiring managers return to work eager to secure a strong fourth quarter performance and end the year on a bang. By gearing up their recruitment engines this month, businesses can ensure they are equipped with the right talent to achieve objectives in their final quarter.
More available jobs
If your search so far has been fruitless, don't worry – it's hard to make hiring decisions when the sun is beating down on the office and leaving everyone feeling lethargic. While many hiring managers will put their recruitment cycles on hold in the summer to account for annual leave, September typically sees organisations pick up speed and start actively seeking new talent. For job-seekers, that means a boat-load of available opportunities and new companies to explore.
Here at Heat, we have noticed a recurring trend in the number of clients who engage us in September in search for candidates to fill new vacancies. Often, this comes down to the fact that many employees will return from their holidays with renewed focus and a new direction, leaving open vacancies for new talent to step right in.
Graduate season is in full swing
September is also the perfect time of year for graduates looking to secure roles, as businesses turn to newly graduated university talent for fresh-thinking and a can-do attitude. While many grad-schemes will already be in effect, most small to medium size businesses always keep an eye open for exceptional graduate talent who are willing to learn, embrace a new culture, and capable of making an immediate impact from day one.
Whether you're currently in employment or seeking new opportunities, take our advice – the best time of year to job hunt is right now.
Article contributed by Heat Recruitment