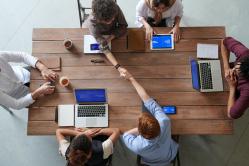 Setting goals is an important part of building a long and successful legal career. For many, the ultimate goal as a Legal Professional is to secure a position with one of the biggest legal firms in the City, working on high-profile clients and gaining seniority in a competitive field.
However, increasingly, many people in the legal sector are seeking a good work-life balance as one of their key goals, and may be looking for more control. Joining a boutique firm can offer these benefits, as well as many of the same advantages as working for a City firm, and can be considered as a viable alternative.
The rise of boutique law firms
The UK's leading boutique law firms are largely centred in and around London, and most are founded by former Partners of top City firms who left their roles to start niche practices with their own vision.
Boutique firms tend to be smaller, occupying single offices, and instead of maximising their caseloads with strict billable targets, they offer more tailored and fluid services, focused on client care and case completions.
Additionally, boutique firms usually allow fee earners and their support staff to manage their own time more flexibly and deliver more personalised services, rather than keeping to a strict schedule. Many clients prefer to work like this, and it lets Solicitors enjoy a more relaxed pace of work.
The best boutique firms combine this client-focused approach with a high-value client base. With many of the founders being former City Partners, they are able to bring existing clients and contacts with them, ensuring they are still able to work with high-profile accounts and cases.
Why work for a boutique law firm?
Working with a boutique law firm can be an appealing alternative to roles in the City for a number of reasons:
A better work-life balance
City law firms are seen as offering the most prestigious and desirable roles, with impressive salaries and the opportunity to work with blue-chip clients. These roles can be a great benefit to any CV – but at the cost of a very high workload.
By contrast, boutique law firms offer a much less taxing schedule and a better work-life balance, while still allowing their personnel to work on high-profile accounts. In my experience, boutiques are more flexible with working hours and days to fit around your lifestyle.
Although salary levels for boutique firms are typically slightly lower than in the City, these roles are still well paid, and the reduced stress and improved work-life balance can be worth the trade-off for many.
Greater autonomy and flexibility
Boutique firms give staff much greater personal control over their schedules, allowing them to take a creative and personal approach to their client dealings. Indeed, customers working with boutique law firms will usually expect this, as they seek a client-centric service that focuses on a strong and satisfying relationship, rather than data-driven performance metrics.
This greater flexibility also extends to working hours and set-ups. Boutiques are much more likely to offer remote working and flexible hours – key priorities for many professionals since the coronavirus pandemic.
More opportunities for progression
Working for a City law firm provides access to high-value career progression opportunities, but these opportunities are also very challenging to obtain. Due to their rigid progression structures, staff will need to work patiently through each level for years to earn a chance at a senior role.
When it comes to boutique firms, routes of progression are much less rigid, and with fewer candidates competing for the top roles, it's possible to achieve a senior position much faster.
More opportunities to get hired
Boutique firms are much more likely to consider applicants from a wide range of career backgrounds.
Applicants with relevant experience can get a role with a boutique firm and earn the chance to work on high-net-worth accounts without a City-level CV. In these roles, they will work alongside people with City backgrounds and deal with cases contested by City firms.
Additionally, the hiring process for boutique firms is also much more accessible. Rather than needing a months-long process of multiple interviews and vetting stages, boutique firms will often offer a much quicker interview process, overseen personally by the senior partner, allowing hiring decisions to be made much more quickly.
Who's best suited for a role at a boutique law firm?
Many professionals may not realise these boutique roles are available, even though they would be well-suited to the advantages they can provide. This is why it's important to review all the opportunities out there before deciding your future career path.
The following groups could particularly benefit from considering boutique law firms as an option:
Legal Professionals who are looking for greater autonomy at work, or a better work-life balance

Professionals who want greater flexibility in their working hours, such as mothers returning from maternity leave

Young, qualified professionals who don't currently have a CV that is suitable for a City firm, but want an alternative pathway to high-value client work
Article contributed by Michael Bailey from Sellick Partnership.
Established in 2002, Sellick Partnership is a market-leading professional services recruitment business with seven offices nationwide. We specialise in recruiting professionals into a variety of positions on a permanent and temporary basis across the following specialisms: Legal, Finance and Accountancy, HR, Procurement, Change & Transformation, ICT & Digital Technology, Actuarial, Wealth & Investment Management, Housing & Property Services, and Senior & Executive.