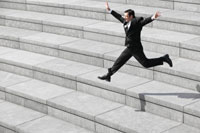 Whatever stage you are at in your career it is essential to be aware of your potential in order to live your dreams and have a fulfilling life.
The potential for having a rewarding and satisfying career in law is very good for Legal Secretaries and PAs. If you are training to be a Legal Secretary or PA and achieve your qualification, you can get your foot in the door and work your way up. You will be able to gain knowledge and experience in your job and eventually progress to a higher position within your workplace or choose to move to a different firm. The more knowledge and experience gained, the more chance you have in securing a satisfying and well paid job. There are always new and interesting aspects of law and legal procedure to learn and if you are dedicated to your career it is wise to acquire as much knowledge as you can. Legal Secretaries and PAs are in great demand and if you have top quality skills, and are confident with your ability, then you will go far.
Legal Secretaries and PAs can be given a lot of responsibility and will carry out many important duties on behalf of their boss or the firm. Some Legal Secretaries and PAs consider themselves to be Paralegals due to their expertise and roles at work. If you are interested in becoming a fee earning Paralegal or Legal Executive then working as a Legal Secretary or PA is a great start for your career.
We all have dreams and some of us are very fortunate in being able to make them happen. Unfortunately for some, however, dreams are lost as they do not achieve their potential and dedicate themselves to what they truly desire. This can be caused by attachments and bad habits which weigh them down. If, for example, you are studying to become a Legal Secretary, you may find yourself taking a long time with your studies because of distractions from friends or the TV. You know that you would really like to become a Legal Secretary but you never seem to find enough time to achieve your goal.
A good exercise to carry out is to write down all of your bad habits and note the negative impact they have on your life at present, then in 1 month, 6 months, 1 year and 5 years if you continue with these habits. After you have done this, write down how you perceive yourself to be in 1 month, 6 months, 1 year and 5 years if you replace these bad habits with good habits. This exercise will force you to shift your perception of short-term pleasures to long-term goals and will give you the power to unleash your potential.
Continuous effort, not intelligence or strength, is the key to unlocking your potential. Winston Churchill
Never underestimate the power of dreams and the influence of the human spirit. We are all the same in this notion: the potential for greatness lives within each of us. Wilma Rudolph