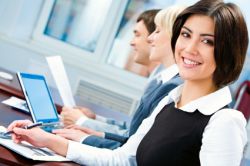 Top London law firm Berwin Leighton Paisner (BLP) has been running a trainee Legal Secretary (TLS) scheme for over 10 years with a fantastic success rate. The last five years alone have seen 100% retention, with all the programme's trainee Legal Secretaries securing permanent secretarial positions within the firm.
BLP recruits eight trainee Legal Secretaries each year. One of our Students, Kelly Louden, was a successful applicant last year and is currently a trainee at BLP. Kelly said the Legal Secretaries Diploma gave her the knowledge to undertake the role, and she is working in her second department now. BLP is very keen for ILSPA Students to apply for the scheme, which is an excellent opportunity for those who are currently completing or have already completed the Legal Secretaries Diploma course. Recruitment commences in January 2013 for the scheme year starting in July.
BLP is looking for intelligent, bright and enthusiastic candidates who have excellent basic secretarial skills and a strong willingness to learn. In return, the firm offers a one-year training scheme where trainees are given the opportunity to spend three months in four different departments across the firm. The work will vary in each department, and often trainees find themselves working for a range of people, from trainee Solicitors to Associates and sometimes Partners. Trainees may also provide support by handling overflow work in busy teams and/or providing cover for absences. Whatever the trainees are involved in, BLP guarantees quality work in a supportive environment. In addition, each trainee is allocated a supervisor within each department, to help guide and support the trainee through the seat. In addition, trainees are heavily supported by HR, with both regular one-to-one meetings at the start of each seat and end-of-seat appraisal reviews.
BLP offers comprehensive technical training on its IT systems as well as structured business awareness and skills module training which includes sessions such as Teamwork, Personal Effectiveness, Communication and Presentation Skills. In addition, the firm's training team offers one-to-one coaching for trainees as required.
Applications for the trainee Legal Secretary scheme year commencing July 2013 will open in January 2013. We will be publishing details about the application process in the January 2013 edition of our Legal Secretary Journal.
For further information regarding BLP's training programme, please contact Lyndsey.Keith@blplaw.com or visit BLP's website at www.blplaw.com/tls.