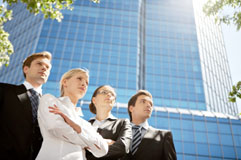 Thank you to all of the Student and Affiliate Members who attended the presentations for Berwin Leighton Paisner's Trainee Legal Secretary Scheme. This is an exciting opportunity to work for an award-winning international law firm. You can find out more information about the scheme and download the application form by visiting www.blplaw.com/TLS.

Now that the presentations have taken place, the next step is to apply. Before submitting your application, make sure that you do your research on the firm and the scheme. Watch your attention to detail, especially spelling and grammar, and answer the questions as best you can. The application deadline is 10 February 2012.

Should you be selected as a potential candidate, you will be invited to Berwin Leighton Paisner's Assessment Centre. Thirty-six applicants will be invited for half-day assessments which will take place on 21 February, 22 February and 1 March.

The key areas that will be focused on are:
Written accuracy
Teamwork
Presentation skills
Digital dictation
Copy typing (40 wpm)
Proofreading
After the assessments, 12 applicants will be chosen for a competency-based interview which will be held mid-March. An offer for a trainee Legal Secretary position will be made at the end of March/early April, and the start date will be mid-July 2012.

If you have any queries, please email us at train@institutelegalsecretaries.com. Good luck with your application, and let us know if you are successful in securing a position with BLP.