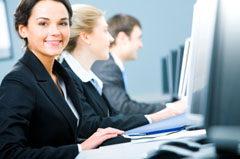 Applications for the trainee Legal Secretary scheme offered by Berwin Leighton Paisner usually take place in January of each year, however, they will now be starting in February or March instead.
Those of you who are interested in the scheme, have a little more time to make sure that you have a top quality CV and think about what you can offer the firm. As well as presenting a copy of your CV, you will need to complete an application form outlining your skills, attributes and capabilities so it is good to be prepared.
If you would like help with your CV and to receive career guidance, please email a copy of your CV to cv@institutelegalsecretaries.com. We provide CV help to Members to give you the best chance of securing a position. A high quality CV will considerably boost your chance of getting a face-to-face interview. ILSPA's CV template has been designed so that your details are displayed professionally, clearly and in an attractive manner.
We will keep you updated as to when the applications for the trainee Legal Secretary scheme open. If you have not read information about the scheme before, please take a look at the article published in the December 2012 edition of our Legal Secretary Journal here: http://www.legalsecretaryjournal.com/?q=trainee_legal_secretary_scheme_2013.