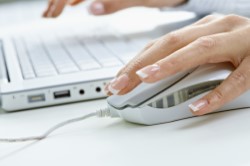 With everyone in the legal profession settling into a new remote-working normal, we will consider how you can enhance your skills when it comes to job hunting and interviewing online.
Starting on a positive note, the legal industry is generally very resilient even in uncertain times, so there is no reason to put off job hunting even if the general economy is struggling to get back to normal. You should prepare to be more patient as those who are recruiting for law firms are also trying to get to grips with juggling a new remote workforce. It may take some HR teams time to adjust to new technology and work routines, but this could be time that you spend developing your online skills.
Two skills that have always been key to obtaining a job in the legal sector are your ability to network and come across well in interview. Neither of these activities are necessarily made any easier by doing them online, so we have some suggestions on how you can make more of an impact in a digital world.
Networking
This is by definition an activity where you want to make contact and exchange ideas ­– schmooze, if you will – with a potential employer. With those face-to-face opportunities being unavailable until we move back into the office, it is more important than ever to connect with people. The classic saying is that people buy from people, so in an age of elbow bumping, make sure your digital profile is as tuned to the legal profession as possible.
If you have a Facebook profile that is easily found by an internet search, consider how it could be seen by a prospective employer. A LinkedIn page could be an easy alternative to promote your expertise and personality. Make sure that whatever digital profile you create not only looks professional but also highlights your skills and experiences. Any page that you create should be complete and accurate, and if done well you may find in time that recruiters will find you rather than the other way around. Establishing a connection and building rapport online should be approached with just as much care as you would take in real life.
Interviewing skills
Video interviews will probably be unfamiliar for most prospective candidates. Just an interview in person, it pays to be prepared, dress for success and practice your technique before (rather than during) the interview. Here are three top tips to help you succeed.
1) Be prepared – There are more things to get ready for an online interview than you would normally prepare for a visit to the office in person. For starters, the whole interview relies on technology, so do what you can to make sure everything works from your end.
Do you have a good enough internet connection? Nothing is more annoying than trying to communicate clearly only to have your conversation dogged by time lags and delays. Test the device you are most comfortable with, making sure that the sound levels are OK. Whatever device you use should be fully charged or plugged in throughout the call.
Try to make sure that any notifications are switched to silent, and close any applications or software that you do not need for the interview. Also, do not forget that if you are interviewing in a room like your lounge, you might need to turn off other smart devices such as Amazon or Google speakers to avoid a "helpful" distraction from Siri or Alexa.
Finally, make sure you "arrive" early by logging in to the meeting software at least 10 minutes before the appointed time.
2) Dress for success – It is easy when you are in the comfort of your own home to "dress down" slightly. You will not be criticised for dressing just as you would for a physical interview. The legal profession is notoriously conservative, and first impressions count. Dressing well will also put you more into the right mindset and may help you feel more confident.
3) Practice – Ask a friend or family member to join a meeting using the same online platform. This will give you a chance to identify any serious issues before the real thing. You can also get feedback on how the location you've chosen for your interview looks to the interviewer. Does your location have good lighting? Is your device set at the right height, with your face clearly visible and your webcam at eye level? Is the background plain or distracting? 
Once you have a quiet location, a comfortable chair and confidence in the technology, you are just about ready. Do not forget you will still have to do all the normal preparations for an interview, so be prepared to explain your career aspirations and interest in the role. Be ready to ask sensible questions about the job specification and link your skills to what is being looked for. Most importantly, try to look calm and relaxed. The person interviewing could very well be less experienced than you are at remote working, so looking confident may go a long way to creating a lasting good impression.