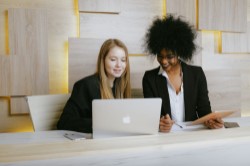 Legal Secretaries and Paralegals are essential additions to any law firm. Both roles provide support for lawyers with preparing cases and general administrative work. But what's the difference between a Paralegal and a Legal Secretary? This article will tackle that question and also provide you with insight into the similarities between a Legal Secretary and a Paralegal.
RESPONSIBILITIES
Legal Secretary
Legal Secretaries work in law firms to provide administrative support to lawyers. Daily tasks include producing legal documents, performing research, transcribing interviews, preparing legal forms, organising diaries and generally keeping the office running smoothly. Sometimes they also attend court, which can be interesting.
Paralegal
Paralegals are more involved in preparing cases, arguments and research for lawyers to present to clients. Their work entails more legal expertise than the work of Legal Secretaries. Paralegals are also required to interview witnesses and draft documents in layman's terms so that clients can understand them more easily.
Read Our Free Guide: What is a Paralegal?
QUALIFICATIONS
Legal Secretary
To be a Legal Secretary, a good standard of spoken and written English is needed. A college course in law or IT will give applicants the upper hand when trying to land this job. However, a Legal Secretary Diploma course will be an advantage because it provides essential training in the legal, administrative, computing and secretarial skills needed to support law firms in a business environment.
Paralegal
Paralegals need specialist training or an undergraduate law degree in order to be eligible for the job. Other types of degrees can be taken into account, but it is essential to have an in-depth understanding of law and procedure. Individuals can pursue a Paralegal Diploma to excel and make themselves more appealing to law firms.
The Pros and Cons of Being a Paralegal 
SKILLS NEEDED
The skills needed for both careers are very similar due to the nature of the work they entail. Attention to detail and administrative skills, for example, are essential in order for individuals to thrive in either job.
Legal Secretary
IT literacy: You will have to produce and manage a variety of legal documents, record important information and schedule things such as court dates using a computer.
Organisation: You will have to schedule meetings and arrangements with clients or witnesses, ensure that you keep on top of your workload, and meet the needs of your firm.
Time management: You will help lawyers manage their agendas on a daily basis, as well as fulfil your own duties.
Interpersonal communication: You will most likely be the first point of contact between the law firm and clients.
Paralegal
Research skills: You will be expected to perform legal research, analyse it, and produce written documents. 
Business acumen: You will need a very good understanding of the legal system, as well as commercial awareness, in order to be able to advise and support lawyers.
Teamwork: You will have to liaise with other legal professionals in other departments at the law firm.
Law Work Experience: Free Guide
CAREER PROSPECTS
Legal Secretary
There are plenty of job openings for Legal Secretaries, as they are in high demand. Prospects for individuals are very good, as the more experience they gain, the higher the salary they can achieve. Being a Legal Secretary also provides the opportunity for advancement and offers a way into a career as a Paralegal.
Paralegal
Paralegals sometimes seek solicitor training contracts in the law firm they are currently employed in. Becoming a Paralegal before becoming a trainee is a huge advantage, as candidates will have practised existing legal skills throughout their job as a Paralegal. Paralegals can be fee earners and can also have their own practices.
How Paralegal Experience Can Get You a Training Contract 
Author: Maciko Audrey
Contributed by The Lawyer Portal