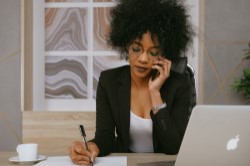 Telephone interviews continue to grow in popularity within the recruitment process, particularly for urgent roles that need filling fast or first-stage interviews. However, these can be daunting for candidates who may not have experienced one before.
During a telephone interview an employer can efficiently gain a technical understanding of your experience without having to set up a lot of time-consuming formal interviews. Thus, the employer can shorten the hiring cycle. It is therefore crucial that you make a strong first impression to ensure you are shortlisted for a formal interview and make it through to the next stage of the hiring process.
Here are recruitment specialist Sellick Partnership's top tips for performing well during a telephone interview.
Make sure you come across well
A key part of the telephone interview is how you come across over the phone. You should think about your tone and sense of humour and show your personality. You will have to go the extra mile as the interviewer cannot see your facial expressions or your body language.
Prepare, prepare, prepare
You still need to prepare as you would for a normal face-to-face interview. Make sure you research the company, their vision and their values as well as information about the person interviewing you.
Keep your CV in front of you
An obvious benefit of telephone interviews is the ability to review your CV while speaking to the interviewer. Consider keeping your CV by the phone so you are able to quickly switch into interview mode, ease into the call and provide relevant examples to the interview questions. This will also help to ensure you can demonstrate your skills.
Sell yourself
If you have a telephone interview, chances are that the employer is also speaking to a number of other candidates – so make sure you stand out. Think about why you should be invited to the next stage and what skills differentiate you from your competitors, and get that across throughout the interview. Tell the interviewer what excites you about the position, highlight your strengths in relation to the role, and think about how you are going to stand out against other interviewees with very similar experiences to yourself.
Close the interview well
It is important to end the interview on a positive note. Make sure you ask questions and try to be innovative. Choose questions that are company or person specific so it shows you have done your research and listen carefully to the answers in case you need to respond further.
Ensure you have got enough phone signal and battery power
Make sure you have sufficient signal on your mobile phone. If you can avoid using it, even better! Take the call on a landline phone where it is far less likely that there will be issues with the connection. Whichever phone you use, ensure it has adequate battery power; landlines are often wireless and will need charging too.
Keep cool under pressure
Time is limited but resist the temptation to talk too quickly. Be succinct and if you want to go into more detail, ask the interviewer if this is appropriate. If you have not fully understood a question, check with the interviewer to increase your understanding. This will give you more time to prepare an answer and prevent long silences over the phone.
Allow adequate time
Ensure that you set aside sufficient time for the interview. We have had experienced candidates who have needed to end calls prematurely due to other commitments, which does not give the best impression. Allow 45 minutes to an hour for the call to be on the safe side.
Got a telephone interview coming up and need more help? Sellick Partnership would be more than happy to help. Get in touch today.
Or, if you haven't yet secured an interview and want a new job, register for our tailored job alerts or search our latest live roles now.