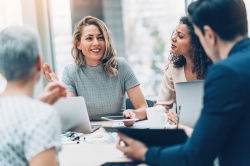 The role of a Legal Secretary is much sought after among workers who want to pursue a career in law. It's an ideal starting point at which to absorb knowledge of the industry before progressing through the ranks. There are many perks to working as a Legal Secretary – the salary is high compared to that of a standard Secretary and there is opportunity for generously paid overtime. The larger firms also generally offer health benefits and incentives such as ample holiday. London remains the main hub for legal firms, though there is a big market growing outside of the capital in major cities such as Manchester, Leeds and Birmingham. 
However, competition is fierce, and employers are demanding even more from their recruits. Gaining general secretarial experience is of great benefit to candidates, as strong IT, administration and customer service skills are high on the priority list for hiring in legal firms. In all spheres and settings, the workload of a Secretary will commonly comprise of reception duties, records management, diary management and meeting preparation for directors, correspondence, and office management tasks. Gaining experience and expertise in these skills within financial, medical or general office settings will stand you in good stead when you progress to Legal Secretary applications. 
Specifically, company secretary positions, such as those at accountancy firms, are ideal for more specialist secretarial knowledge and experience. These involve extra responsibilities such as ensuring statutory registers are maintained, completing statutory forms and storing these appropriately, documenting and filing meeting resolutions, and the managing of accounts. All of these will be useful in a law firm and therefore are excellent to have had exposure to. Such tasks will stand out on your CV and make you even more appealing to prospective law firms when applying for Legal Secretary positions.
As in all industries, the role of a Secretary is evolving and being moulded by the advancements in technology. The tasks of a Legal Secretary are being digitised, eliminating the need for shorthand with the provision of voice recordings that can be automatically transcribed by software, meaning the Secretary simply has to proofread and make necessary edits. Processes are being streamlined in relation to case management, calendaring/docketing, document assembly, legal research, document management, document imaging, litigation support, time and billing, and litigation presentation. Keeping up with these IT system developments is essential for anyone working in a secretarial role, but especially so for those working as a Legal Secretary. 
The good news is that, despite technological advancements cutting the need for jobs in certain sectors, the role of a Secretary is still very much in demand. Recruiters recognise the importance for these fundamental administration roles that form the backbone of any organisation, with substantial growth in searches for suitable CVs. Therefore, it is even more important than keeping up with the changing workflow trends and latest software to beat the competition for those coveted positions.
Emily Clay, on behalf of Mitchell Charlesworth, Chartered Accountants and Business Advisors
Emily is an established content writer whose articles have been published across national publications and industry expert websites. For this journal, she is writing on behalf of Mitchell Charlesworth, who offer specialist business and financial advice.