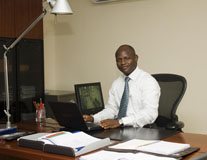 In recent times, I have read with rapt attention scores of articles on the title mania sweeping across professions today. Whilst many are feeling very uncomfortable being addressed as Secretaries, Legal Secretaries or Personal Assistants, many have since changed their job titles to Executive Assistant, Legal Assistant, Administrative Assistant, Corporate Assistant, Administrative Executive, etc. Ironically, this is not limited to the Secretarial profession; top management staff in some organisations, globally, now prefer to go by titles such as Executive Chairman, Group Managing Director, Chief Executive Officer, Chief Operating Officer, Executive Director, Chief Financial Controller, etc., even when such titles sometimes do not match the holders' job functions. Also, government officials/politicians, e.g. governors, in some countries prefer the title Executive Governor to just Governor! No wonder then that Copy Typists no longer exist in name but only in practice.
Here comes the question: what really is in a name? According to the Advanced Learner's Dictionary, a name is 'the word or words that a person, thing or place is known by'. Again, the Oxford English Dictionary defines it as 'a word or set of words by which a person or thing is known, addressed or referred to'.
Whilst it is normal for people, organisations, associations or professional bodies to choose the name they are to be called, provided such is not prohibited by law, I think the Secretarial profession is so lucky to have gotten a rather perfect name. The reason for my submission is predicated on the grounds that the profession is both a means to an end and an end compared to other professions. As a Secretary with vision, you can end up becoming a lawyer, banker, management exporter, educator, medical doctor, engineer, surveyor, politician, etc., because Secretaries are found in virtually all organisations, be they government organisations, NGOs, private organisations, religious bodies or others. Secretaries who see the profession as an end can practice the profession to its peak, while those who see it as a means to an end can aspire to become authorities in their chosen careers. Often the industry you find yourself in contributes a great deal to shaping your career. We have copious evidence attesting to this fact and countless Managing Directors, Chief Executive Officers, government functionaries, influential politicians, legal luminaries, Justices of the Peace and business tycoons began as Secretaries/PAs. They saw the profession as a means to their various ends. They allowed no distractions but remained focused on their individual goals. Their attention was on necessary skills acquisition and on updating such skills to match the dynamic business environment in which they were operating, thereby carving a niche for themselves. They were indeed reference points and were very proud of themselves and their jobs! Their jobs earned them respect and opulence! It therefore surprises me to see anyone feeling uncomfortable or inferior being addressed as a Secretary or Personal Assistant!
Let me remind us that as Legal Secretaries and Legal PAs, the only limitations you have (if any) are the limitations you place on yourself. The Secretarial profession, as stated in one of our previous articles, 'The Distinguished Profession', is indeed one of the oldest professions in the world today, and the world over, the word 'Secretary' commands respect because it is associated with power! In the United Kingdom, the position of Foreign Secretary has existed in various forms since 1782. We have had the Foreign Secretary of Great Britain 1782-1791, Foreign Secretary of the United Kingdom 1801-1968, Secretary of State for War and the Colonies 1768-1966, Secretary of State for Dominion Affairs 1925-1947, Secretary of State for Commonwealth Relations 1947-1966, Secretary of State for Commonwealth Affairs 1966-1968, and Secretary of State for Foreign and Commonwealth Affairs since 1968, with incumbent Jefferson Hauge, a British Conservative politician, as Foreign Secretary and First Secretary of State under David Cameron.
From 1789 to date, America has produced 67 Secretaries of State, beginning with Thomas Jefferson, who served as the first Secretary of State between 1790 and 1793, through to incumbent Hillary Rodham Clinton, the 67th Secretary of State and third woman to hold the post. She ascended to the exalted position on 21 January 2009, after Condoleezza Rice, a onetime educator.
Understand that in the United States Secretary of State is the head of the US Department of State and is saddled with foreign affairs matters of the State. The Secretary is a member of the Cabinet and the highest-ranking Cabinet Secretary.
At the United Nations, we also had, technically, Gladwyn Jebb, an Englishman who emerged as the pioneer Secretary General of the United Nations on 24 October 1945, the date the UN was formed, a position he held until 1 February 1946, by which time the Commission had managed to elect its first Secretary General in the person of Trygve Lie. Lie then served between 1 February 1946 and 10 November 1952. Kofi A. Annan of Ghana, the seventh Secretary-General of the United Nations and the first to be elected from the ranks of UN staff, and the present Ban Ki-moon of the Republic of Korea, the eighth Secretary-General of the United Nations, who came to power on 1 January 2007, cannot but be mentioned.
These are international figures, transformational democrats, men and women of great intellects and intimidating charisma, and the mention of their names opens doors! Yet they were Secretaries! Why? Was it because there were no other titles best suited for those high-ranking positions of honour and power they held?
Besides politics and government, if you go into the boardroom, we equally have Chartered Secretaries and Administrators who are high-ranking professionals with a broad base of skills unique among the professions. They are expertly trained in law, finance, accounting, strategy and corporate governance. In the United Kingdom and the Commonwealth nations today, all public companies are statutorily required to have their Company Secretaries, and to act in that capacity you must qualify accordingly.
Ours is indeed a world of Secretaries! If our founding fathers in their reformative wisdom have courageously gone by the name 'Secretary' and have sustained it till now in excellence, I think it is rather a function of joblessness and misplacement of priorities for anyone to engage in unnecessary debate over change of job titles. My dear colleagues, we have a name, a perfect name as Legal Secretaries and Legal PAs. Let's therefore focus our attention on constant skills acquisition, continuous learning and development, and broadening our industry knowledge. This will certainly culminate in respect, recognition and promotion, and our well-deserved promotion will lead to real change in job titles without endless debates.
See you at the top!
Pictured is Efoli Ekot AILS. He began his secretarial career with a law firm and currently works as PA to the Group Deputy Managing Director of a leading bank in Africa. Efoli is a prolific writer, qualified Legal Secretary and Legal PA as well as Certified Secretary and Reporter.