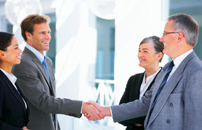 Having a job in the legal profession is looking good, as Pannone LLP was No. 3 on The Sunday Times' list of the top 100 companies to work for in 2009. More than 200,000 employees took part in the newspaper's survey, which asked questions about general well-being, opportunities for professional development and fair pay.
Pannone is a legal practice based in Manchester, with 768 staff members at an average age of 35. The company displays a good work ethic, seeing positive results even during an economic downturn. Pannone has deservedly received a lifetime achievement award to mark five years as one of the top 10 companies to work for in the UK.
Employees at Pannone feel as though they are valued, which leads to mutual respect and good working relationships. They understand the importance of working hard when there is a job to be done and are rewarded with early finishes when they exceed their targets. Informal times are enjoyed with dress-down Fridays and successes are celebrated in the office.
There is a good family atmosphere within the firm, and in fact 10 percent of staff members are related. Pannone recruits on family recommendations, as the company is aware of the solid working environment this creates.
Pannone encourages professional development by supporting employees to take law courses. Mohammed Vadia started work in the post room over 20 years ago and is now working as a team leader within the personal injury department. Mohammed was given the opportunity to train as a Legal Executive through ILEX, thanks to Pannone.
The Institute of Legal Secretaries and PAs can relate to Pannone's work ethic. We have a close team and everyone's opinions are valued when decisions are made within the company. We understand the importance of mutual respect in creating a strong workforce and we, too, offer a family atmosphere. Dress-down Fridays are enjoyed very much as they make us feel more human after a hard week of work.
Lewis Silkin LLP, a legal practice based in Chancery Lane, London (near the Royal Courts of Justice), was ranked the 19th best company to work for in The Sunday Times. The firm believes that giving employees the opportunity to be involved is the secret to a happy and motivated workforce. 'Hear, hear!' we say.