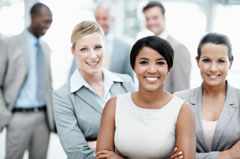 At the Office Show towards the end of 2012, National PA Day celebrated Britain's estimated 600,000 highly skilled Personal Assistants, showcasing the increasing importance of PAs working in offices throughout the nation. The aim of National PA Day was to promote this exciting and stimulating profession amongst well-educated, career-minded young people.
This event also saw the release of a survey conducted amongst nearly 1,500 PAs to find out about their pay, qualities and career prospects as well as other interesting information about their roles. Here are some of the results:
The most common salary bracket is between £26,000 and £30,000, with 25.4% of PAs earning this figure. 1.8% of PAs earn over £50,000 a year.
40.7% of PAs feel that their pay reflects what is expected of them in their role.
Two of the most important qualities considered necessary for the role are confidentiality and multi-tasking.
63% of PAs feel that they are appreciated by their bosses. Some of the comments made by these PAs were:
- "I believe it's very important to have equal respect for each other; then your boss will get the best out of you."
- "My manager is an inspirational leader. She allows me to do my job without interfering and gives me every support to progress and develop."
- "I think my boss appreciates me for making his life easier rather than appreciating me as 'WOW, she's fantastic'. Most places would fall apart without good PAs. I am trusted with diary changes etc., which is nice to feel I don't have to check everything."
- "My CEO looks after me and ensures that I am happy on a regular basis."
- "I have a super boss who always says thank you."
Some 80.8% of PAs think that their bosses do a good job. A selection of their comments were:
- "Never met a boss like him: no political agenda, leads by example, gives work out and trusts his team to do it. [He] is very charismatic and a thoroughly nice person. He's successful because he instils confidence in his teams."
- "I am very lucky my boss thinks highly of me, respects me for my role and [respects] me as a person. We have regular communication regarding my progress and learning and development plan."
- "She is a very inspirational woman, great at what she does and very hard-working. It's a very key part of what makes my job fantastic – the pride I can take in working for someone like her."
- "My boss is a dynamic, confident individual, passionate about the work we do and a great leader. He trusts those that he line manages to get on with the job and is very supportive if any issues arise, whatever they are related to. He is organised and meticulous. He has an amazing memory and is an inspirational speaker."
- "I actually have a lady boss who is one of the world's leading lawyers and the global co-chair for the world's largest commercial law firm. She is a totally inspirational wonder-woman – but a total nightmare whirlwind to run around after and organise!"
57.3% of PAs said they would feel disappointed if they had to work for a different boss.
29.4% of PAs think they have very good career prospects, with 42.5% saying that it would be up to them to progress their career further.
40% of PAs felt that they are neither encouraged nor discouraged by their organisation to develop their career. Comments provided were:
- "I've recently undertaken the Curriculum for Living with Landmark Education, fully supported by my boss, which has led to a breakthrough in my performance. Our organisation is currently undertaking a talent management initiative."
- "It is up to me to initiate career development opportunities."
- "Personal development is promoted well in my workplace; happy and engaged staff means happy and engaged customers in the long run."
- "They are very good at encouraging training and development, but you have to chase them to actually get any courses booked."
- "I can attend appropriate courses as I wish, which is a good thing."
Some 38.2% of PAs feel that the role is more important than it was 15 years ago. Some of the reasons they feel like this are:
-"The world is a smaller place, so senior managers have to deal with more mediums, [more] work, different time zones, etc. and they need help with this."
- "I feel the role of a PA has evolved from being more of a secretarial-type role to that of being a right-hand woman for your boss. Bosses expect their PA to be able to deal with complex issues in their absence and [to] be able to make decisions on their behalf."
- "Introduction/progression of computers and secretarial skills required to use them."
- "I feel that PAs are more aligned with business executive demands now, as opposed to traditional secretarial roles. More is expected of us than typing minutes and answering the phone."
- "Modern working life is now much more 24/7 and technology based. There are more things to organise, oversee and deliver on, inside and outside of office hours. PAs are required to be experts in all of the new technologies as well as the more traditional ones and [to] pass on this knowledge if possible to their bosses."
Some of the best things the PAs questioned have been asked to do were described as follows:
- "Attend a garden party at Buckingham Palace as a guest of the Duke of Edinburgh."
- "I went to Hong Kong for a week last year to support my boss in a role he had at the time."
- "We get a lot of invites to see venues. Once [I] and a plus-one had an invite to see a hotel in the Lakes for a sailing weekend. I took my husband, and we had a very lavish, free weekend. On night one there was a dinner for two on arrival [at] the house. The second day we sailed, followed by a champagne-tasting evening, followed by a seven-course meal, a second night's stay, and [even] a packed lunch to travel home with. Felt like royalty."
- "To buy make-up, shoes and garments for X Factor presentation."
- "Drink champagne at 9.30am!"
Some of the most ridiculous things the PAs have been asked to do are:
- "Buy a Valentine's card for my boss's wife."
- "Write a best man speech."
-"Organise a birthday where everything had to be pink – no other colour was allowed for anything!"
-"Provide Alka-Seltzer and brandy for a visitor!"
-"Very many moons ago, asked to go to M&S and pick up the children's supper."
On the whole, the work of PAs is very rewarding and interesting! It is a great career to get into, as not only do you have the satisfaction of providing an excellent service to your boss, but you can earn a salary of up to £50,000 a year if you are lucky enough to secure a top position.