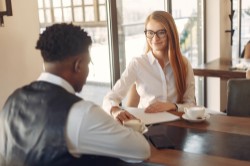 A Legal Secretary needs to be dedicated, efficient and highly organised in order for a law firm or business to run effectively.
Therefore, when interviewing for a Legal Secretary position, employers are looking for much more than good administration skills. Legal Secretaries need to demonstrate a genuine interest in the law, as well as excellent customer service skills and adaptability.
You might be interviewing for your first Legal Secretary job, or you could be an experienced candidate looking to make the move to a major law firm. Whatever your experience, we have put together some helpful tips on how to answer common Legal Secretary interview questions to reflect the best of your abilities.  
"Why this firm/area of law?"
Every firm is unique; some deal with multiple areas of law, whilst others focus on a subdivision or niche sector. Either way, the first step before any Legal Secretary job interview is to research the firm extensively. Visiting its website is the easiest way to get an overview of the kind of work it does, which services it offers and any information surrounding cases it has worked on. From here, you should then research its featured legal practice area or areas. A brief understanding of the law in general is not enough to guarantee success in an interview; it is highly likely that an employer will expect you to understand legal terminology relating to that specific area.
For example, if the Legal Secretary role is within a Family Law practice, you should spend time researching around Family Law and its different subdivisions, including Childcare, Matrimonial, Divorce and Cohabitation. It is also important to familiarise yourself with the types of clients the firm works with, as you will be liaising with them directly in a secretarial role. Since these matters are often of a sensitive nature, reflecting your compassionate side and commitment to helping these particular clients will also benefit you in the interview.
Demonstrating this knowledge is especially important if you do not have experience within the sector, as it shows that you've taken the time to do your research into the work the firm does.
You may also be asked what field of law is most interesting to you, which you could expect from an interview at a multi-service firm. Make sure to prepare an answer with sufficient examples and explanation. For example, if your answer is Criminal Law, show what interests you about it specifically or give examples of any recent cases you find fascinating (a bonus point if you've done jury service/court marshalling!).  
"How do you stay organised/prioritise various tasks?"
A key skill for Legal Secretaries is the ability to multitask and stay organised. Since you are responsible for tasks including administration, research, document preparation and client correspondence, the interviewer will likely ask a question that allows you to demonstrate your organisational competence.
You might be asked for examples of how you demonstrate these skills in your daily life or current job, or they may be more directed at what you could bring to the Legal Secretary role at their firm.
Either way, demonstrating commitment to completing tasks to the best of your ability with a high level of accuracy and consistency is key. Show that you can handle multiple tasks at once, but that you take time to consider each one and prioritise to deadlines accordingly.
"Tell us about a time you demonstrated excellent customer service."
The ability to deliver great customer service is crucial for a Legal Secretary. You are the first point of contact for all clients and other people entering the firm, so your customer service skills must be first class.
In order to best demonstrate your strengths in customer service, you should give an example of a time you went above and beyond to help a client, or a situation where a client was particularly difficult and you handled it with respect for both the client and your employer. Showing that you can perform to the best of your abilities in tricky situations is equally important as being able to deliver excellent customer service in your role as a Legal Secretary.
"How would you handle…?"
Often, when interviewing for Legal Secretary jobs, interviewers will ask situational and behavioural questions that are designed to test your knowledge and experience, as well as your ability to think on your feet. Some of these questions could include:
How would you prioritise work if several lawyers gave you tasks with the same deadline?
How would you handle a particularly difficult client?
How do you maintain confidentiality?  
How do you ensure your work is accurate?  
When answering these role-specific questions, you should give examples of times you have demonstrated these skills in the workplace, providing concise yet detailed answers. Read the job description to familiarise yourself with the duties expected of you, as it is likely that these will be the situational questions asked by the employer.
"Describe a tough case in which you have participated."
The legal focus of your role is what interviewers will keep coming back to. They want to see an administrator who is aware of the challenging nature of the legal sector and is consequently prepared to deal with various issues the role may throw at you.
You may not have gained exposure to cases as a Legal Secretary, but you are likely to have some knowledge of cases either from work experience or an internship, or by reading about them. If you don't have direct experience, you could choose an ongoing legal case and explain how you would handle the situation as a secretary. If you have participated in a difficult case, demonstrate how your involvement shaped your role as a Legal Secretary and how you learnt from it.
"What did you like/dislike about your previous role?"
In this type of question, the interviewer is explicitly trying to assess your adaptability, as well as strengths and weaknesses. Here, you should highlight your experiences in a previous secretarial position. Examples of what you enjoyed could involve taking on new challenges, meeting a diverse range of people, learning new skills and successfully keeping to deadlines.
When it comes to your dislikes, you should refer to an absence of something in your past role, including insufficient challenges or training opportunities. Don't mention a hostile working environment, doing overtime or a testing relationship with a manager or colleague – this will only reflect badly on your own skills and behaviours.
Although it may seem obvious, you should absolutely avoid mentioning anything you didn't like about your previous job that features in the job description of the new role. Adaptability in a Legal Secretary job is key, so make sure to show that you're willing to push yourself and take on a new challenge.
"What will you bring to the firm/business?"
This is where you need to show your understanding of the firm, the type of law it practices and how your knowledge and expertise will make you the best choice for the role. You should explain your experience or interest in the practice area, as well as demonstrate your excellent communication skills, detail-oriented nature and commitment to client care using relevant examples. Think about what you achieved in your last job and how these achievements came about, considering how you could apply your skills in this new Legal Secretary position.
The interviewer may ask for your opinion on how you will make the role your own, or what you will do to support the reputation and image of the company. Reference the firm's core values, which are often displayed on their website, and how you would uphold them as its Legal Secretary and, in turn, its ambassador.
Summary
There's no telling which questions could crop up in your Legal Secretary interview. Some will be more commonplace, others are designed to catch you out. Broadly speaking, Legal Secretary interview questions are designed to tease out your competence in organisation, administration, client care, legal knowledge and confidentiality.
As long as you prepare well, you should be able to answer interview questions in a way that reflects your skills and experience and shows an employer that you are a great candidate for their Legal Secretary position.
Ready to apply for Legal Secretary jobs? Discover the latest Legal Secretary vacancies from leading recruiters, firms and companies by browsing TotallyLegal today.
Want to refresh yourself on the key responsibilities and requirements of a Legal Secretary? Check out our Legal Secretary job description here.
For more CV and careers advice, visit the TotallyLegal blog.