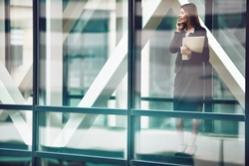 The role of legal secretaries has changed over the years, and with technological advances and increasing pressures on legal firms to cut costs, the role of the legal secretary is becoming more important than ever. Legal secretaries now have a much broader skillset, and are often key to streamlining processes and saving costs, making them an integral asset to any legal firm. 
In this blog, Faith Kelly, legal recruitment specialist at Sellick Partnership, explores what makes legal secretaries so important, and why they are still a much needed support network for successful lawyers. 
Much more than just a secretary  
In the past, legal secretaries were employed to do simple administrative tasks; however, I am pleased to say that the days of legal secretaries being seen as simply admin support are far behind us. Today, experienced legal secretaries are an extension of the legal professionals they work with. They assist, maintain and help to manage intense case loads, allowing lawyers to concentrate on their key day-to-day tasks. Not only that, legal secretaries today are often vastly knowledgeable in law, and have become an essential sounding board for many successful lawyers across the globe. 
An essential trusted relationship  
I regularly work with lawyers from various areas of law, and the majority I speak with hold their legal secretaries in high regard. I would argue that many lawyers would be lost without the support and knowledge of their legal secretaries, and this is part of the reason they are so important. 
Today the relationship between lawyers and their legal secretaries is fundamental and there are very few sectors where two individuals work so closely and efficiently together. The relationship many lawyers have with their legal secretaries is almost impossible to replicate, and I do not see how technological advancements could replace this. This relationship is essential, but if legal secretaries are unable to build this and showcase their value, it is likely that firms will look at reducing their numbers to save costs.  
So what can legal secretaries do to build this trust with the legal professionals they support? I believe this is all down to adding value and being constantly on hand to offer advice and support. The legal secretaries I have worked with in the past have a great deal of knowledge and understanding of the legal sector, and they use this to their advantage. There is very little point in being complacent in the role; legal secretaries need to get involved and think outside the box at how they can support lawyers and the firm on the whole. 
The need to diversify as technology grows within the legal sector  
One thing I will say is that if legal secretaries want to carve a successful career in the industry, they need to look at current developments and ensure they are able to offer more than just secretarial support. It is no surprise that technological advancements are allowing firms to invest in systems that can do many of the tasks that are generally assigned to legal secretaries. However, I would argue that there should still be a human element in this process.  
Technology will never be able to replicate the social element of human interaction – something that I believe is essential within the legal profession. This is where I believe legal secretaries can come into their own and become an even more valuable asset to a firm. Legal secretaries should be bold with their ideas and offer up their advice and suggestions where appropriate. This may not be possible all of the time due to the complex nature of many lawyers' case loads, but sometimes an outside perspective can be hugely beneficial, and I know many of my legal candidates would agree.  
The true value of legal secretaries  
The role of lawyers is also becoming more difficult, with increased caseloads, the need to be more commercially focused and the requirement to be available all of the time. As a result, lawyers have more to contend with than ever before. Firms therefore need to be looking at ways we can reduce the stress many lawyers are facing, and legal secretaries can provide the necessary additional support they need, if given the opportunity.  
The biggest challenge lawyers are facing is a lack of time, which is a commodity none of us can take advantage of. This is where legal secretaries need to show their true value. Anyone that can save a legal firm vast amounts of time will be a hugely valuable asset, and assets like this should be nurtured. Many firms are reducing the number of legal secretaries to save costs, when instead I believe they should be working with their legal support teams to streamline processes and save time, giving lawyers more time to bill and increase the overall profitability of the firm.  
Securing legal secretaries for the future  
If we are going to secure the future of legal secretary positions we need to make firms realise how important they are, and the only way we can do this is by ensuring that we are representing high-calibre candidates that are committed to the legal sector. We need to ensure that the legal secretaries we are training and recruiting are serious about the role and see it as a viable career option, rather than a stop gap. Candidates that are passionate about the legal sector, and who are committed to helping firms save time, streamline processes and work smarter will always be a huge asset. In doing so I believe firms will realise how crucial legal secretaries are to the industry and the number of career opportunities should grow as a result. 
By Faith Kelly, Legal Recruitment Consultant at Sellick Partnership  
If you are a legal secretary and looking for a change, or are interested in a new job within the legal sector, I would be more than happy to help. You can contact me directly by emailing faith.kelly@sellickpartnership.co.uk, or get in touch with our legal recruitment team by calling 0113 243 9775.  
Or you can view the latest jobs on offer at Sellick Partnership here.