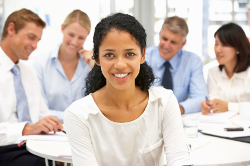 If you are preparing for a legal secretary job interview, make sure you don't stumble on a question that many people simply forget to plan for, and live to regret. "Tell us what you can bring to this role?" is an incredibly obvious question, and you're guaranteed to hear it at just about any job interview.
Yet somehow many of us struggle to have a knockout answer lined up, and therefore risk not sounding committed to the job in question and failing to sell ourselves effectively.
The question is designed to make an interviewee articulate what he or she can offer that other candidates can't. Put another way, it's the perfect opportunity to run through exactly what makes you ideal for the job in question. The challenge is to summarise what you can bring and not waffle or lose your thread. Don't be too brief either – a weak answer would be to say simply that you have the right skills and are keen to take on a new challenge.
What do they want you to say?
Do the legwork long before you face the interview panel. This means making yourself aware of the attributes the employer is looking for in addition to qualifications and experience. In the job ad, did they ask for a team player, a self-starter, someone highly organized? Home in on the outline they gave and build your answer around that. Your challenge is to sell your personal brand in a way that meets these requirements.
Focus on three key attributes
Recruitment experts recommend you pick at least three key attributes you can bring to the job which fit their requirements and will encourage the interviewer to sit up and listen. These might be proven communication skills, project management skills, team-working abilities, knowledge of the specialist sector in question or a proven interest in an aspect of the job – for instance, social media or event planning.
Carefully study your CV and choose the attributes you can offer from there. Make sure you have specific 'behavioural' examples of when you have used these personal attributes to achieve a particular end, and don't be scared to say if something hasn't worked perfectly, as long as you can show that you've learned from it.
Here are sample answers which will give some ideas for this question:
Passion for the profession   
I believe I can bring real passion and energy to this role. I have a strong desire to help others and develop as a professional, and this is already demonstrated through my voluntary work with X charity and my determination to self-fund and complete my ILSPA qualification while working part-time. My attitude has always been that if I am going to do something, I should put every effort into it, in order to succeed.
Team player
I'm a dedicated team player, which can be seen in the X project that I completed while working at X firm. Because the team launching this new service was spread across different offices, I set up daily Skype catch-up meetings to ensure we all knew how things were progressing and no one felt isolated. When a colleague was under pressure with his workload, I collaborated with the team to between us take on extra responsibilities so we didn't miss the completion deadline. I thrive in a team environment and fully believe a team that is communicating well will be the most productive and successful.
Able to work under time pressure
I'm aware that this job involves time pressure and that you are looking for someone who can multitask and work across several projects at once, with regular deadlines throughout the year. While working at X firm I was responsible for administration of client accounts, setting up evening events and ordering office supplies. I used office management tools to schedule tasks and set up an electronic diary system for my colleagues across the team. When we re-platformed the company website, I was responsible for managing X and completed the project on time and on budget. Although there were very busy times and a few teething problems, I remained calm and in control and got the job done.
Hopefully your succinct anecdotes will provide the meat on the bones that the interview panel is looking for and you will present yourself as someone ideal for the job on offer.
Alison Clements
ILSPA publishes an article from specialist recruitment site www.Simplylawjobs.com each month. Simplylawjobs.com advertises thousands of the latest legal jobs from leading recruitment agencies and direct employers across the UK. By registering as a job seeker, you can apply for jobs, upload your CV to be seen by employers and sign up for email job alerts.