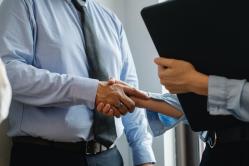 The thought of asking your boss for a pay rise or a promotion is always nerve-wracking, and can strike fear in the most confident of business support professionals. Not only do many people often overthink the approach but the assumption of a negative response or reaction to your request makes the idea of putting yourself out there feel a lot worse than it is.
Remember, your boss is only human, and to get to where they are today means that they would have been in the same position as you are at one point in their career too.
If asking for a promotion or pay rise has been on your mind lately (or even over the last few months) take a look at our guide below to give your confidence a boost and kickstart the process of receiving exactly what you think you are worthy of!
Preparation
Firstly, remember that preparation is key – preparation for yourself and focusing on the end goal but also preparation for your boss. When you ask to put time in their diary with the intention of asking for a pay rise or promotion, take the lead and let them know it's coming. This way, they can also prepare, look at budgets and have time to think about the value that you have added to their life over the course of your professional relationship.
Ahead of your meeting use the following list as a guideline on what to prepare:
List your achievements, the challenges you have overcome and clearly identify how the business benefits with you there (this is your impact!).
List your strengths and how they are crucial to the day to day running of the department, the business and their life. Communicate how as a team you work as efficiently as possible by each contributing different skills to enable the other to do their job effectively. For example: Are they poor at communicating? Talk about how you have perfected the skill of relationship building, managing expectations and how you are the person who ensures actions from meetings are followed up and completed in order for them to move forward with their own business agenda.
Understand if your job description accurately reflects your role; you are not obliged to accept twice the amount of responsibility you were hired for without fair compensation. Do you see a huge disparity in what you were hired for vs. what you actually do? In their monthly mentoring sessions our Founder Jess tells our A-Lister members to make a side by side comparison of their job descriptions before presenting it to their boss. If a job description increases from 1 page to 1.5 or more pages, you know there's an immediate cause for a salary review in accordance to the increase in performance required by the PA/EA.
Do your research on competitor firms and what they pay their business support staff. The reality is that replacing you, if you leave for a better package elsewhere, will take more time and cost more money to the business than giving you an increase on your salary.
Why
Secondly, decide on the 'why'.Why do you deserve a pay rise? The answer to this question should always be because of something you have achieved at work, the impact that you make and how the business benefits you being there. Have you put a new procedure in place that has saved the company money? Will this conversation be part of an annual review, in which you have overachieved in all the performance related goals and targets set out from last year? Either way, the 'why' should always be performance related and never personal.
Setting out for a pay rise with the 'why' being because you want to buy a new house and you need the extra cash, or because you may be struggling financially will not get you the answers you want. A pay rise should be fair to the responsibility you hold, the impact you make and because you truly deserve it. The catch is that only you know why that really is and only you can communicate that 'why'. Here is an example of 'why' to help you get started:
I proactively sought out to understand how process X works. Upon assessment, I realised that there were a number of bottlenecks causing the process to take longer than necessary. I redirected the responsibility of part X to X in accounting and implemented automation through parts X and X by utilising a specific tool in Outlook. This has saved the individuals involved X amount of time and we now have the desired results in 1 week in comparison to the usual 2 weeks.
Research
Once you know your 'why', next decide on how much you are going to ask for and be realistic. Do your research within the industry, amongst your competitors but also within the company if you can. You can use Salary Checker tools online to find the industry average here https://www.checkasalary.co.uk.
Expect questions and prepare to negotiate, sometimes your boss may want you to work for it. It's important to know your worth and be able to justify why it is deserved.
Ahead of the conversation give yourself a few minutes to be your own hype person! Run through the main three reasons why you deserve the pay rise and believe in yourself. Confidence is key when negotiating and often it'll be the first few sentences in the conversation that will determine the outcome. Use clear sentences and avoid indirect language – avoiding statements like 'I was thinking/hoping for somewhere in the X region'. If you have done your research, you will know what amount is appropriate, so don't be afraid to ask for it.
Unfortunately, not all pay rise conversations go to plan and sometimes you will leave the meeting without the answer you were hoping for. When this happens, don't leave with a hard no. Ask your boss when you can put in more time to discuss your salary review again and make sure it goes in the diary (you are in control here), whether it's in three months' time or six, ensure the meeting gets booked and discuss specific goals that you can work towards to set yourself up for a successful conversation next time round.
Is a salary increase the only thing you would settle for? Think outside the box, if you're unable to secure the pay rise, what else may you be able to gain? This could be access to courses that may be able to further your development as an assistant or alternative perks such as an increase in your holiday allowance, extra towards your pension contributions or a title change. Often if the salary increase isn't possible your boss may be willing to compensate you elsewhere.
Article written by Amy O'Neill from The Assistant Room