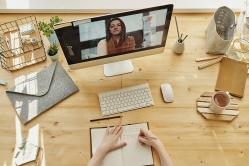 Zoom interviews are becoming more commonplace in today's digital age. Conducting video interviews has numerous advantages:
Since the employee does not have to travel, video interviews save time and money.
They give the interviewer the opportunity to acquire more insight into the skills and personality traits of the individuals they have shortlisted for the position. Because this is the stage at which employers decide who will move on to the next round or be offered the role, thorough preparation should always include practicing well-thought responses to typical zoom interview questions. Just like in-person interviews, you should already know the answers to the zoom interview questions about your personal work experience and working history, but you may not always be able to come up with comprehensive responses to questions you are asked on the spot. It is essential that you know your CV inside and out and have examples to expand on.
It allows the organisation to see how well a candidate communicates verbally and nonverbally through body language. Nonverbal communication is so complex that certain interviewers might find it difficult to "read" a candidate over the phone. As a result, it allows the candidate to "show off" their personality in ways a phone interview might not be able to.
The interviewee, however, may find it more difficult. When you are trying to make a good impression, the added stress of technical difficulties might be challenging to handle. Following a few Zoom interview tips can make your video interview less unpleasant. 
Tips for a Zoom interview
In order to improve your chances of landing a job, you should perform some preparation work before your video interview. To help you get started, here are seven tips for a Zoom interview:
Make sure you do your homework beforehand.
Research the firm and the position you are applying for before the interview. Prepare yourself for enquiries about why you want the job and what you know about the organisation by reviewing your answers to these questions. You will be better prepared to ask insightful questions at the interview if you have done your research on the company.
As long as you do not find them distracting, you can place notes around your monitor. This can be a valuable tool for those who find it challenging to keep track of dates or numbers.
Have a reliable internet connection. 
A video call can be ruined if the internet is not working properly. Make sure your internet connection is working properly before your interview. If you are making the call from a laptop, ensure it is plugged in, so the battery does not run out.
It is best to use a Wi-Fi connection rather than your phone data if you have a mobile device. Most current phones will switch to the other as soon as one becomes unreliable.
Put on your best attire.
The interviewer cannot see your entire clothing, even then dressing professionally is vital for a successful zoom interview. Getting dressed professionally can help you feel more confident and less self-conscious during an interview. It will also stop you from feeling embarrassed if you must get up at any point. 
Keep an eye out for little cues through body language.
Even during a video conference, your body language communicates a lot about who you are. Make eye contact with the camera, not the screen, and smile. Avoid fidgeting or messing with something out of the view of the camera. Do not start answering until the interviewer has finished their question and nod your head while they speak.
Therefore, to ensure a successful Zoom interview, wait a moment before joining in case of a delay. Otherwise, you may discover that you are always talking over one another. 
Be prepared for technical issues.
There is always the possibility of something going wrong during the call, even if you have tested your internet connection and it appears to be fine. You should not be alarmed if your sound or video disappears for a few seconds. Just do your best to figure out what is wrong.
Plugging in headphones or relocating to a new area may help if your audio keeps going out. Prepare to continue the interview over the phone if necessary. Employers understand that technical difficulties arise from time to time; as such, do not allow yourself to become stressed out. They may be ready to move the interview date if your computer issues can't be resolved, to give you a second chance. 
Consider the background and lighting.
Remove clutter and anything that could be embarrassing from the video frame. Choose the setting that blurs the background if you are making the call from your bedroom and do not want others to see it.
When the lighting is natural and not direct, it appears better. Avoid intense lighting if you do not want any shadows to appear on your face. With that said, an interviewer will have a hard time seeing your face if there is a bright light behind you. Make sure to keep an eye out for the sun's position throughout the day as you adjust the camera's angle of view. 
Ensure your personal space is free from intrusion.
It is impossible to concentrate on the zoom interview questions if you are distracted by your significant other, children, housemates, or even delivery people. It is best to make the call at a time that works for you. It is best if you are in a room of your own with a closed door. Post a message on the door to inform anyone who might wander in during the interview.
Thoughts and reflections to sum up.
You will be more prepared for your video job interview and more likely to impress the interviewer and land the job if you follow these zoom interview tips. Keep in mind that the video interview is simply an opportunity to discuss your qualifications and expertise while learning more about the position. Preparation will help you get through this difficult time. 
Also remember, getting yourself through an interview can always be challenging. However, you can make it less challenging by simply getting yourself prepared. For that, always do your research and homework. Let us have you in on a little secret, while getting prepared for the interview, it is wise to research on your interviewer as well. This can also help you in nailing your zoom interview.
Article contributed by Simply Law