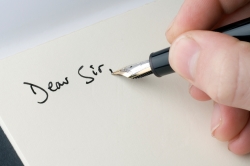 The legal sector is highly competitive so securing an interview requires a strong CV and a cover letter that grabs the employer's attention. This article by Simply Law Jobs set out how to write an impressive and interesting cover letter to help you stand out from the crowd.
What should a cover letter do?
The aim of a legal cover letter is to firstly show off your legal knowledge and secondly demonstrate that you have conducted thorough research into the company you are applying to. You should always write a new cover letter for each role that you apply for.
It should highlight your key skills, experience and general personality to show why you are a good fit for the company and the role. Take a look at the company website to help you see what their aims and company ethos is to help you show this.
It should also emphasise why you want to work for the company in question and why the role appeals to you.
Content
Most importantly, your letter should be interesting and engaging. You should always check it carefully so that there are no grammatical errors or spelling mistakes; this will display your written communication skills. Describe why you're interested in working for that specific firm and if the company specialises in any niches, ensure you mention any experience you have that is related to that specific discipline.
A legal cover letter should generally follow the structure below:
Opening Paragraph – Begin by talking about the job you are applying for, where you found out about the position, why it interests you, etc.
Second Paragraph – Talk about yourself, your qualities, past experience, relevant hobbies and your education. Explain what stage of your career you are at and what you can bring to the company. Try to be positive and persuasive without exaggerating.
Third Paragraph – Make it clear why you want to work for this particular company – why you are interested in the work they do and if possible, cite individual cases that have been of interest to you.
Closing paragraph – Close the letter by mentioning that have attached a CV and that you are looking forward to hearing from them. State when you would be available to interview and if the application asks you to state an expected salary, then do so here.
Cover letters should be concise, but personal.
How to sign off
If you do not know the name of the recipient then you should sign the letter off with 'yours faithfully'.
If you are addressing the person by name then you should sign off using 'yours sincerely'.
Example Cover Letter
Dear [insert name]
I am applying for the role of [insert job title] which I found posted on Simply Law Jobs when searching for similar positions. The role is exactly what I am looking for and I feel my skill set is a perfect fit for the job description.
I graduated at [insert university] with a [insert grade] and previously studied at [insert college], achieving [insert grades]. I have a deep interest in law and it has been my ambition to work in the sector for a long time. Since leaving university I have [insert career history]. I feel I am well suited to the role because [list your key skills, ensuring they match the requirements on the job posting]. In my spare time [insert relevant hobbies/ volunteering experience, if possible, mention relevant experience at university E.G. debate teams].
I am extremely enthusiastic about working for [insert company] and have a particular interest in [insert the company's specialisation or niche]. [Talk about any recent cases the firm has worked on that has recently made the news, or described in a case study].
Thank you for considering me for this role and I look forward to hearing from you. Please find my CV attached with this letter.
Yours Sincerely,
[insert name]
Email or Paper?
Whether to send an application as hard copy or soft copy is a common question for people sending off their first legal cover letter.
Most job postings will state if their preference is an email application or a paper one. If you are filling out an online application then you will usually get the option to attach your CV and cover letter at the end so there is no need to send a hard copy.
If there is no job vacancy and your application is speculative, then it is sensible to send both a hard copy and soft copy to improve the chances of it being seen. A good way to stand out from the crowd is by investing in high quality paper and writing the letter by hand using a fountain or ballpoint pen, rather than a print off. If you are not happy with your handwriting then maybe consider asking someone to write it for you.
We hope this article has been of use to you and you are successful with your application.
Advice provided by ILSPA's Trusted Partner Simply Law Jobs.
At Simply Law Jobs, we specialise in advertising thousands of the latest job vacancies across all levels of the legal sector. We are the UK's leading legal niche job board, providing businesses with a cost-effective and efficient alternative to generic job sites. Job seekers are at the core of what we do, so we offer candidates a site tailored entirely to their industry. Our promise is simple, we ensure quality over quantity and provide the very best approach to candidate targeting, delivering an outstanding return on investment.