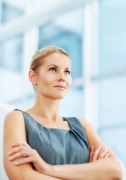 The current economic climate means some law firms are tightening their belts, so, as always, it is vitally important to stand out from the crowd if you want to fulfil your career potential. Over the next few issues of ILSPA's Legal Secretary Journal, I'll be offering advice on how you can both stand out and stay true to the career path of your choice.
I've been a recruitment consultant with Douglas Scott for the past two years, placing legal business support staff all over the UK. Prior to this I worked at the Co-operative Bank in a human resources role, and I've also provided a business support role. So I am delighted to help Legal Secretaries further their careers.
It's a competitive market out there, though, which is why candidates need to think of themselves as a brand in order to stand out. What is your unique selling point? What have you achieved that marks you out from the competition? What are potential employers are looking for, and why should they appoint you over the many other candidates they see? These are questions you should ask yourself – and answer – before even sending off your CV.
And where should you find the answers? Online. If a potential employer uses social media, you can bet they'll check out your profile before your interview, so it is a great opportunity to promote yourself before you even meet. A recent survey by Jobvite found that 92% of employers use, or plan to use, social media as part of the recruitment process. LinkedIn is used by 93% of the employers using social media. Twitter is used by 54%, and 66% of them use Facebook. So you need to ensure that your online persona is tip-top; the content of a social profile can be telling. Bad grammar and spelling will deter potential employers. Worthwhile pursuits outside of work, however, are a strong positive; Jobvite's survey revealed that two-thirds of employers value references to charity work, for example.
Think of your LinkedIn profile as an online CV. Ensure that all the dates add up and link to former employers. Give an overview of your skill sets and achievements alongside your work history, and request references for supporting endorsements.
As well as providing you with a positive profile, social media will also enable you to follow and engage with people. You can have direct access to potential employers, educational establishments and industry advisors that simply wasn't there before the arrival of the Internet and social media. But remember, you should ALWAYS remain professional. Create a second profile for work purposes if need be, and use it to connect with key media titles and organisations as well as individuals.
By connecting with the right individuals and companies, you can start to engage and establish a presence that shows incentive and professionalism. Good things to comment on or send links to include industry issues, congratulations on recent successes, and relevant trends and news. A bit of personality is great, but do try to avoid coming across as flippant. The statistics show that potential employers will investigate your profile, so it's best to avoid personal insights and comments if you cannot find a balance.
A recruitment consultant will go through your CV and advise of any constructive changes you might need to make, so do ensure that your online details match your formal CV. And then the application and interview process can begin – with you secure in the knowledge that your social media profile is positioning your brand (you!) correctly and effectively.
(Applications and interview styles are becoming increasingly varied – and I'll be looking at that in the next issue of Legal Secretary Journal.)
Gemma Rush from Douglas Scott Legal Recruitment
http://www.douglas-scott.co.uk