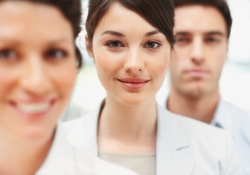 A career within the field of law is not all about Judges, Juries and dramatic cases fought in the courtroom. In fact, a large proportion of legal work goes on behind the scenes in the office and is done by support staff such as Legal Secretaries. Legal Secretaries ensure the smooth running of a legal department by providing essential administrative and managerial support. Legal Secretaries are expected to carry out administrative duties such as producing legal documents and compiling official correspondence as well as more specific work such as conducting legal research. Apart from office work, Legal Secretaries can also be required to attend court hearings or visit police stations from time to time.
Becoming a Legal Secretary is a good entry point for someone who wants to build a career within legal administration but also for someone who would like to explore the possibility of becoming a legal practitioner, such as a Paralegal, Legal Executive, Solicitor or Barrister, in the future.
So what does it take to become a Legal Secretary? Well, the vast majority of employers will expect you to have good secretarial skills as well as knowledge of the law and legal procedures. Qualifications in business and administration can be useful; however, the Legal Secretaries Diploma offered through the Institute of Legal Secretaries and PAs must rank as one of the most respected and comprehensive qualifications for anyone wishing to pursue a career as a Legal Secretary.
Competition for Legal Secretary jobs is very high, and going that extra mile to obtain relevant qualifications or experience can go a long way in improving your chances of securing a permanent position with a law firm. Legal Secretary jobs are typically permanent nine-to-five positions, but many law firms also have temporary, part-time and evening work available.
Starting with a law firm as a temp or an intern can really help you get your foot in the door. Employers are more likely to make offers of permanent positions to interns and existing temporary staff than to hire someone externally. So temping with a legal firm can increase your chances of securing a long-term position with the firm. Also, having the experience of working with a law firm can enhance your CV and make it much more attractive to other employers, so your chances of getting a job in general are greatly improved.