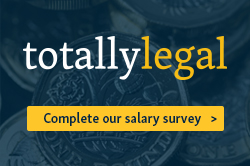 TotallyLegal - the UK's leading job board for legal professionals - has launched its annual salary survey and wants to hear the details of your daily working lives.
The results of the survey will detail the average salaries of Legal PAs and Secretaries across the UK, revealing whether you are adequately rewarded for your efforts or could be earning more elsewhere.
Last year, Legal PAs in our audience reported average salaries of £32,619, while Legal Secretaries took home £34,615.
More broadly, the results of last year's survey - compiled into a comprehensive Audience Insight Report - revealed that, despite being a high profile issue, the gender pay gap continued to widen within the legal profession.
Shockingly, men out-earned their female counterparts by significantly more than the national average of 18% in several key practice areas including Private Client (42%), Corporate (34%) and Commercial Property (33%).
Has the gender pay gap worsened in 2019? Or has this year seen some desperately required change? The valuable insights that you provide will help us to find out.
If you want to be involved in the production of an overview of the legal profession as it stands in 2019, all while benchmarking your salary, simply fill out our online survey today.