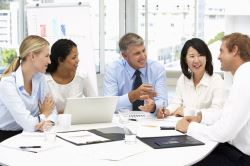 Every year Career Legal publishes a review of the legal market. Their 2018 market review has been very enlightening, particularly in respect of the changing role of Legal PAs in the big-city law firms.
Law firms are evolving due to the advancement of technology and the ability to save costs on administration procedures. Legal services are being delivered swiftly and efficiently through sources which allow the higher-ranking members of staff to focus on core business practices. The majority of administrative tasks are being handled by administrative assistants at a more junior level these days and document production is being outsourced or sent to regional hubs as it is more cost-effective. This means that the traditional Legal PA role is changing. Legal PAs are required to be involved with more senior management tasks now, taking care of clients, making decisions on behalf of their boss, managing projects and having a hand in business development. A high skill set is needed, with qualified and commercially aware PAs being at the top of their game.
Although large city law firms are evolving, the traditional Legal PA role is still required in some firms throughout the country where the workload is managed well within smaller teams. Of course, not all firms have an influx of work where something like outsourcing is needed. Having a PA to manage personal timetables, diaries and travel arrangements; organise events and engagements; and produce legal documentation is still needed. Legal PAs interact with clients and are often the first point of contact, so it's important for them to have an understanding of law, legal procedures and the individual cases. So there is still a requirement for Legal PAs to provide legal support in some legal practices.
We advise Legal PAs working in the city to adapt to changes by advancing their technology skills and being willing to perform more managerial tasks. We have found evolving firms are offering their PAs the chance to take on more responsibility and be team managers or executive assistants. One of the Institute of Legal Secretaries and PAs' aims is to encourage professional development so that Legal Secretaries and PAs are continually developing their skills to be the best they can be at their jobs. They need to be aware of any changes which are taking place in the industry and adapt accordingly.
The Institute of Legal Secretaries and PAs' Continuing Professional Development programme highlights the importance of continuing professional development within the field. It is essential for Legal Secretaries and PAs to develop themselves professionally so that they have the best skills and are adaptable to changes. CPD enhances the knowledge and skills of Legal Secretaries and PAs, which in turn improves the quality of their work. Solicitors have to do mandatory CPD each year in order to practice law, and we believe it is of equal importance for support staff to be encouraged to do the same. We regularly encourage our Members to undertake CPD as we want to ensure that law firms have top-quality staff. You can find more information about our CPD programme here.
Salaries are continuing to look good for Legal PAs. They are earning around £22,000-65,000 a year, depending on the firm, level of experience and role. You may wonder what causes such a salary difference. Well, those new to the role will be looking at an average salary of £22,000 whilst a PA to a Managing Director would be looking at the higher end of the salary bracket. Career Legal has seen that there has been a slightly higher salary increase for Legal PAs in the past year due to administrative tasks being passed on to those at a more junior level and PAs taking on more responsibility.
The Institute of Legal Secretaries and PAs is delighted to work with Career Legal to inform people about changes in the industry and ensure that law firms hire the best staff. If you require any guidance regarding your career, please do not hesitate to telephone us on 0207 1009210 or email us at info@institutelegalsecretaries.com.