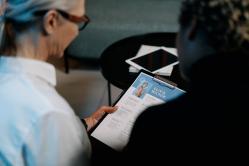 Working on the business support offering at Interlink Recruitment has exposed me to many curriculum vitae (CVs) from Legal Secretaries and Legal Personal Assistants (PAs). In this article, I will be exploring what makes a fantastic CV for a Legal Secretary or Legal PA and what in particular makes a candidate stand out to me when sourcing for roles.
A key attribute I look out for when sourcing appropriate candidates for a more senior Legal Secretary position is how their experience aligns with the role. Law firms are often looking for immediate assistance within their existing departments and, therefore, would prefer a candidate with the relevant experience within that practice area. The reason for this is that having experience working in a practice area means that the candidate is competent working with certain legal documents and processes, making it far easier for them to assist effectively.
Although having that experience is an advantage, it is not always a requirement. There are often many transferable skills that can be applied to a practice area regardless of whether a candidate has worked within it before.
For example, a Legal Secretary who has experience within a private client department will have skills that can also be applied to effectively assist within a residential property firm. However, more contrasting practice areas may be difficult for a Legal Secretary to adapt to quickly without the training required, which law firms may not be prepared to give if they have an urgent requirement.
Another aspect of a CV that I consider is how many years of experience a candidate has. This is a key factor in relation to how senior the job vacancy is, what the specific role entails and whom the successful candidate will be assisting.
The role a Legal Secretary has within a firm evolves throughout their years of experience. An entry-level or more junior Legal Secretary may be given more administrative tasks and is usually required to be able to type quickly and have Microsoft Office proficiency. In contrast, a Legal Secretary with at least 10 years of experience will be assisting the most senior people in law firms, particularly Partners and Directors.
Years of experience can also determine how many lawyers a Legal Secretary is able to assist; a more senior candidate is likely to have more confidence assisting multiple lawyers, as they are used to working at a larger volume. These candidates will also be trusted to have access to sensitive information and be given more complex tasks. I have seen many senior Legal Secretaries who have a lot of responsibilities within their current firm and who perhaps would not be stimulated in another firm that is unable to provide this.
Regarding the key skills required, for a lot of Legal Secretary vacancies the basics will include being able to type quickly (minimum 65 wpm) as well as having Microsoft Office proficiency. Another skill associated with Legal Secretaries is audio typing. This is a skill that was once extremely sought after; however, the need for this has reduced over the years due to an increase in the use of technology.
Other skills that are less relevant are printing and scanning, as many law firms are embracing a paperless environment wherever possible, particularly due to the efficiency of modern case management systems. However, this overall increase in technology has meant that Legal Secretaries are now expected to have confidence with IT programs including case management systems, Microsoft Office, Microsoft Outlook and so on.
Legal Secretaries may choose to enrol for a Legal Secretary course. An example of this is the Legal Secretaries Diploma Course that is offered by ILSPA, which is equivalent to a Level 3 qualification. This gives candidates who are just starting their Legal Secretary careers the opportunity to learn about the daily tasks of a Legal Secretary, legal terminology, several areas of law, the legal profession and how the court system operates. It also allows more experienced Legal Secretaries the opportunity to gain a recognised qualification to complement their existing skills. These courses are desirable but not always essential, especially if a Legal Secretary has the appropriate experience behind them.
My advice to individuals who are just starting their Legal Secretary careers is to take advantage of the transferable skills you may have developed in other professions. Problem-solving, customer service, telephone and administrative skills are all important attributes for a Legal Secretary that should be mentioned on a candidate's CV when pursuing opportunities. These skills can be gained in a variety of industries, including retail, hospitality, professional services and so on, and are considered at entry-level Legal Secretary positions.
All these skills, qualifications and experiences should be clearly displayed and formatted on a CV with perfect spelling, grammar and punctuation. This demonstrates an ability to put the skills required in the job into good use, providing evidence of competency for the role. In turn, this makes a Legal Secretary stand out as reliable and capable of completing the job effectively.
It is also essential that Legal Secretaries clearly state the roles and responsibilities they've had in the firms they have worked within. I have come across many Legal Secretary CVs that are missing key information about their day-to-day tasks and this can raise questions as to whether that candidate is appropriate for specific vacancies, which could potentially cause them to miss out on opportunities.
By Zoe Alexander, Legal Recruitment Specialist at Interlink Recruitment