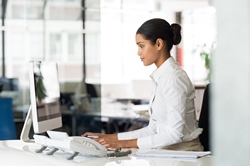 You may have noticed recently that for a limited time, recruiters can advertise on our Legal Secretary Jobs Board for free. This means that there are a larger number of Legal Secretary and PA positions being advertised for which you can apply, so it is well worth registering as a candidate or, if you've already done so, ensuring that your candidate profile is up to date.
Candidates can upload a CV and apply for jobs directly through the jobs board. Recruiters will then be able to access the information on your application and CV to assess your suitability for their vacancies. It is important to ensure that you complete your profile and, most importantly, keep it up to date so that recruiters can see what level of experience you hold and where you are looking for work.
ILSPA's Members and Students are excellent candidates for the roles being advertised as they have the knowledge, skills and experience employers are looking for.
To ensure that you have the best possible chance of being selected for a role, you will need to provide the following information within your profile:
Personal details
Ensuring that your personal details such as name, email address and contact number are up to date means that recruiters will be able to contact you regarding any jobs for which you apply. The last thing you want is an invitation to interview or job offer being sent to an old email address!
It is also important to ensure that your profile reflects your correct level of experience. These are split into the following categories:
Trainee – You are currently studying a Legal Secretaries Diploma course, either with ILSPA or another training provider.
Qualified – You are a Legal Secretaries Diploma graduate or hold a law degree.
Experienced – You have at least one year's experience as a Legal Secretary.
If you are unsure of your experience level, then you may need to develop your knowledge and skills in order to be considered for a Legal Secretary position. If so, then you can view our Legal Secretary courses to see how we can help you become a qualified Legal Secretary and gain your ideal role: https://www.institutelegalsecretaries.com/training/diploma/
CV
Having an up to date CV on your profile is imperative. The CV saved on your profile is the one which will accompany your application for roles through the jobs board, so ensuring that your up to date CV is saved means that potential employers will be able to make an informed decision based on your skills, experience and qualifications.
If you require assistance with your CV, Students and Members can take advantage of CV Help and Guidance to secure employment which is one of our Membership benefits. Simply send a copy of your CV in Word document format to cv@institutelegalsecretaries.com.
Preferences
We offer some additional services with our Jobs Board, such as sending out notifications when new jobs are advertised on the jobs board and also a candidate newsletter, which is sent out every three months and which contains helpful information for those looking for work. In order to take advantage of these benefits, you will need to opt-in for them, which you can also do on your candidate profile.
So if you already have a candidate profile and want to check that your information and preferences are up to date, you can log in using the following link: https://www.institutelegalsecretaries.com/accounts/login/
Alternatively, if you have not already signed up as a Candidate, you can do so by following this link: https://www.institutelegalsecretaries.com/jobs/candidate-register/