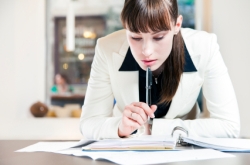 It's official – employers have zero patience when it comes to CV grammar and spelling. When asked, 'What is the biggest turn-off for you to see on a candidate's CV?' the top answer employers gave was poor grammar and spelling mistakes, according to a recent survey. Recruitment consultancy Nicoll Curtin asked 550 companies, and a massive 65 percent pointed to CV errors as their ultimate bugbear.
Shoddy spellchecking and proofreading aren't exactly a ringing endorsement of your knowledge of basic office technology or attention to detail, are they? For enthusiastic, well-trained legal secretaries and PAs, it's vitally important to demonstrate these basic skills.
So make sure you're not failing to progress to the interview stage because of bad CV grammar. When you have written your CV, it's essential to spellcheck, of course, and this should alert you to any glaring typos that need to be edited before you send. However, remember it's not always that easy to pick up grammatical errors, and there are some mistakes that are made more often than others on CVs.
The top mistakes job seekers make on their CVs include verb tense, apostrophes, formatting and careless spelling mistakes.
Here are six classic CV errors to watch out for:
Words spelt correctly but in the wrong context: for instance, using 'their' instead of 'there', 'advice' instead of 'advise', and 'fare' instead of 'fair'.
Inconsistent or wrong hyphen use: for instance, using e-mail instead of email.
Wrong use of apostrophes: You should never have GCSEs or A-Levels. Watch out for 'its' and 'it's' as well. (The apostrophe is only needed when you have shortened from 'it is'.)
Mixing up verb tenses: for instance, led vs. lead.
Formatting issues: Make sure your fonts and bullets are the same throughout the CV.
Careless spelling mistakes: Commonly misspelt words tend to be fairly simple words such as 'accept', 'recent' and 'materials'.
The best advice is to ask a friend to proofread your CV for you, and don't forget to make the changes that he or she spots. Research shows that there are between two and five grammatical errors on every CV, so don't assume yours is perfect! Check, check and check again, and remember the internet is full of advice on grammar and spelling – so be resourceful, and get everything right!
Alison Clements
ILSPA publishes an article from specialist recruitment site www.Simplylawjobs.com each month. Simplylawjobs.com advertises thousands of the latest legal jobs from leading recruitment agencies and direct employers across the UK. By registering as a jobseeker, you can apply for jobs, upload your CV to be seen by employers and sign up for email job alerts.